Hawkeye Fan Shop — A Black & Gold Store | 24 Hawkeyes to Watch – 2017-18 | Hawk Talk Monthly — October
Editor's Note: The following first appeared in the University of Iowa's Hawk Talk Daily, an e-newsletter that offers a daily look at the Iowa Hawkeyes, delivered free each morning to thousands of fans of the Hawkeyes worldwide. To receive daily news from the Iowa Hawkeyes, sign up HERE.
By JACK ROSSI
hawkeyesports.com
 
IOWA CITY, Iowa — University of Iowa head volleyball coach Bond Shymansky smirked at the chance to break the home attendance record, again.
 
Under Shymansky, the Hawkeyes have consistently brought in the best attendance numbers in program history and this week, Iowa is back to make history at Carver-Hawkeye Arena in front of its fans.
The Hawkeyes face No. 22 Michigan — the team's fourth straight ranked opponent and third at home — in its first midweek match of the season Wednesday night.
 
"These split weeks give us about 2 ½ days of preparation for Michigan and 2 ½ days of preparation for Nebraska (on Saturday)," Shymansky said. "We are right in the middle of the season, but we are just in the beginning of Big Ten play. Every match is so huge and every opponent is so great. I believe our team is continuing to get better, but we have to get that sense of winning back."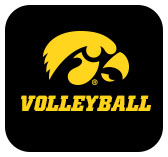 While the midweek matches provide new and different challenges for the team, this weekend the Hawkeyes will strive for something else in addition to playing an important Big Ten match: bringing 5,000 fans into Carver-Hawkeye Arena. This is also known as Operation 5K.
 
"Our crowds keep getting bigger and better year after year," Shymansky said. "That's a lot of fun and it is rewarding to see for our program and our team. (The fans) add a ton of energy and the whole vibe of Carver has turned it into a spectacle. We need that Fight For Iowa, we need that intensity, and we need our Hawkeyes to rally around us."
 
Shymansky's program is a top 20 team in attendance nationally, and since he arrived in 2014, he has 11 of the top 20 attendance marks in Iowa history, including three this year and two last weekend. He also has the record of 4,131 set on Nov. 19, 2016, against Nebraska. After breaking the record last year, Shymansky wants to keep pushing it forward.
 
"We set out last year to make our Nebraska home match our big push to break the attendance record and we did," Shymansky said. "We don't want to rest on our laurels and so we want to do it bigger and better this year. We were just short of 5,000 last year; let's get over 5,000 this year."
 
Bringing 5,000 fans into Carver-Hawkeye Arena will not only make for the best atmosphere Iowa volleyball has ever had and provide a massive home court advantage, but it will be encouraging to know they have so many dedicated fans.
 
"They are learning the point Hawks cheer and they certainly bring up the intensity as the score gets closer to 25 each set," Shymansky said. "It makes our players feel good to know that people care about supporting them to win. It makes you feel like you're special, like your hard work is being acknowledged, and like you have people that are backing you to be successful."
 
The Hawkeyes' midweek match against No. 22 Michigan begins Wednesday at 7 p.m. (CT), while Operation 5K and the match against fourth-ranked Nebraska begins Saturday at 7 p.m. General admission tickets are $6 per person and free for UI students.