Hawkeye Fan Shop — A Black & Gold Store | 24 Hawkeyes to Watch – 2017-18 | Hawk Talk Monthly — October | 2017 Football Tickets
By JACK ROSSI
hawkeyesports.com
IOWA CITY, Iowa — University of Iowa assistant football coach Reese Morgan has been on both sides of the line of scrimmage during his tenure at Iowa. In his 18th season on Kirk Ferentz's staff, Morgan's current defensive line is deeper than in the past.
 
In his sixth season as defensive line coach, Morgan works with an eight-man rotation on the line.
 
"We've gotten to the point where we feel confident with the guys that we have," Morgan said. "They have earned the trust of the coaches in practice, so we are able to play eight guys, which allows us to keep fresh guys in there and allows more guys an opportunity to get on the field."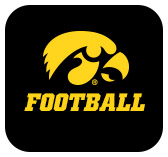 Among the rotation is true freshman A.J. Epenesa, a five-star recruit from Edwardsville, Illinois. Epenesa Epenesa has gotten significant playing time through the team's first five games and his presence on Iowa's front won't be diminishing.
 
"The first thing about A.J. is that he is a tremendous human being and a great young man," Morgan said. "His family has done a great job in preparing him for this. He is talented and focused. He pays attention, but is still a work in progress as he learns everything. He is going to continue to get more playing time as the year goes on."
 
Epenesa has earned his playing time, tying for second on the team in sacks with senior Josey Jewell who has 2.5. While Epenesa continues to see the field, it allows Morgan to rotate the rest of the line.
 
Junior Matt Nelson is one of the players that has been moving around. The Cedar Rapids native was asked to move inside after playing end his first two years: He went without hesitation.
 
"We are trying to get the best players on the field and Matt is certainly a good player," Morgan said. "We are strong on the end position, so we asked Matt to make a sacrifice. He can play all four positions. We are trying to focus him inside and take advantage of his size and body weight. He is a really reliable young man that you trust."
 
Iowa's defensive line has been more productive than the statistics tell. Even though sophomore Anthony Nelson is fifth in the Big Ten in sacks with four, the linebackers are directly impacted by the line's play and their stats help paint the full picture.
 
"Our job is to read a hat and play blocks," Morgan said. "If they are getting tackles, then we are doing something right. We take care of our responsibility and if we do it well enough, then they will have an opportunity to get to the football."
 
Jewell leads the Big Ten with 60 total tackles – 21 more than the next player – while senior Ben Niemann is 26th with 30 tackles.
 
Morgan and the Hawkeyes host Illinois on Oct. 7 in Kinnick Stadium for homecoming. Kickoff is set for 11:01 a.m. (CT) on BTN. Live stats and a radio stream of the game are available on hawkeyesports.com.