Hawkeye Fan Shop — A Black & Gold Store | 2017 Football Season Tickets | Kinnick Edge | Fight For Iowa | Freshman Spotlight: Geno Stone | Freshman Spotlight: Ihmir Smith-Marsette | Freshman Spotlight: Ivory Kelly-Martin | Freshman Spotlight: Matt Hankins | Freshman Spotlight: A.J. Epenesa | VIDEO — Tristan Wirfs
Editor's Note: The following first appeared in the University of Iowa's Hawk Talk Daily, an e-newsletter that offers a daily look at the Iowa Hawkeyes, delivered free each morning to thousands of fans of the Hawkeyes worldwide. To receive daily news from the Iowa Hawkeyes, sign up HERE.
By DARREN MILLER
hawkeyesports.com
 
IOWA CITY, Iowa — Freshman offensive lineman Tristan Wirfs impressed head coach Kirk Ferentz before he even set foot on campus at the University of Iowa.
 
It was around Thanksgiving of 2016 when Wirfs phoned his eventual head coach to tell him he was going to shed 37 of his 322 pounds so he could compete at heavyweight on the Mount Vernon (Iowa) High School wrestling team.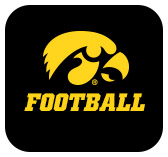 "I doubt that's going to happen," Ferentz thought. "Inwardly, I didn't think he could do it."
 
Not only did Wirfs get down to the maximum allowable weight of 285 pounds, but he won the Class 2A state championship.
 
"It was probably the hardest decision of my life, whether or not to cut all that weight," said Wirfs, who had been wrestling since first grade. "I wanted to have one more year with my teammates and it paid off."
 
There was never really an offseason in high school for Wirfs. He was first-team all-state in football, a state champion wrestler, and a Drake Relays and state champion in the shot put and discus. Oddly, his first love was baseball.
 
"I wanted to play baseball for the longest time," Wirfs said. "When I got the (scholarship) offers the summer going into my junior year (of high school), that is when I figured I would play football."
 
Wirfs did not see action in Iowa's first two games of the season — victories over Wyoming and Iowa State. He became one of nine true freshmen to play this season during a 31-14 win over North Texas on Sept. 16 in Kinnick Stadium. He was part of the field goal unit against Penn State and Michigan State.
 
"It was an incredible experience," Wirfs said. "Sitting on the sidelines or being in the stands at Kinnick, it seems so much bigger. When you get on the field, it's like any other game; don't make it anything bigger than it is."
 
The 6-foot-5, 315-pound Wirfs has re-gained most of the weight he lost as a high school wrestler. Now the quest is being able to consistently control Division I defensive linemen and linebackers. He started quickly in camp before missing time with an injury. He currently sits No. 2 on the depth chart at right tackle.
 
"He has worked his way back and is doing a lot of good things," Ferentz said. "He is running with our No. 2 group in the offense, so we are excited.
 
"On top of that, Tristan is a tremendous young man, fun to be around, and easy to work with. He has a great work ethic and positive attitude. Everybody on the team has enjoyed having him here."
 
Senior offensive lineman Boone Myers remembers the challenges of transitioning from high school to college and says Wirfs is ahead of the curve.
 
"He has been doing great," Myers said. "He's a young guy, but he has been picking up the offense pretty well. As soon as his body catches up to what his brain and his eyes are seeing, he is going to be a beast."
 
Wirfs was a Hawkeye fan growing up, primarily because his pals in Mount Vernon were Hawkeye fans. The Iowa games were on television, so Wirfs joined his family and friends in supporting the in-state team 20 miles from his hometown. Still, he focused more on individual role models.
 
"When I was growing up I always Googled Jonathan Ogden and Michael Oher," Wirfs said.
 
Ogden, who was coached by Ferentz early in his career with the Baltimore Ravens, is an 11-time Pro-Bowler who was selected to the Pro Football Hall of Fame in 2013. Oher played eight seasons in the NFL with the Ravens, Titans, and Panthers.
 
Iowa hosts Illinois for Homecoming on Oct. 7 with an 11 a.m. (CT) kick inside Kinnick Stadium. When Wirfs enters the game, he will continue to work on maintaining run blocks. It's not the same as high school, where he said "you block this guy and that guy."
 
"When they try to shuck you down, I want to transition my feet and stay with them," Wirfs said. "Here you have to know when to block a certain guy. It's more complex and the speed — a combination of those two things is big."