Hawkeye Fan Shop — A Black & Gold Store | 2017 Football Season Tickets | Kinnick Edge | Fight For Iowa | 24 Hawkeyes to Watch — 2017-18 Season | VIDEO — Adrian Clayborn
By DARREN MILLER
hawkeyesports.com
 
IOWA CITY, Iowa — Adrian Clayborn's actions always spoke louder than his words.
 
Examples include a sideline-to-sideline tackle on a speedy running back during a win against Arizona in Kinnick Stadium. A punt block and touchdown return the following week at Penn State. Being named defensive MVP of the Orange Bowl after the Hawkeyes' masterful performance against Georgia Tech.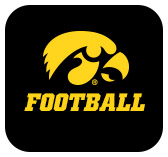 Heck, you could essentially pick any game from the 2009 season and it would include an Adrian Clayborn highlight.
 
"The most memorable was Penn State, but that whole 2009 season was great," said Clayborn, a defensive end. "The Orange Bowl experience was cool; it was a great season overall."
 
Iowa won its first nine games in 2009 and finished 11-2 with a No. 7 national ranking.
 
Clayborn, who lettered for the Hawkeyes from 2007-10, is honorary captain for Saturday's game against Illinois. The multi-sport athlete from Webster Groves High School in St. Louis became a two-time team captain, two-time All-Big Ten selection, and a consensus All-American. At Iowa he compiled 192 tackles (37 ½ for a loss) and 19 sacks.
 
"He never said a lot, but the way he practiced, played, trained," Iowa head coach Kirk Ferentz said. "Everything he did was all business and Adrian was a phenomenal player."
 
Tampa Bay selected Clayborn with the 20th pick in the 2011 NFL Draft. He played for the Buccaneers from 2011-14 and has been with the Atlanta Falcons since 2015. In 69 professional games, Clayborn has 151 tackles and 22 ½ sacks.
 
"The program (strength and conditioning coach Chris) Doyle has getting guys ready, strong, mentally prepared for the NFL helped a lot," Clayborn said. "It puts us a step above other rookies, I can honestly say that.
 
"Being in an NFL-style defense (at Iowa) with the same calls, same kind of plays, and NFL-caliber coaches getting us ready."
 
The Falcons played in Super Bowl LI last February, losing in overtime to New England. Clayborn tore a bicep during a 36-20 playoff victory over Seattle less than a month earlier and could not play in the Super Bowl. But just as he knew what it took to win in college, he knows how to win in the NFL.
 
"It's taking it week-by-week, day-by-day," Clayborn said. "You can't look to the future or for the playoffs to come. You have to take it one practice at a time and one meeting at a time."
 
Now in his seventh NFL season, Clayborn marvels at the many former Hawkeyes he meets and shares a few minutes with in pregame warmups. On Oct. 1, when the Falcons hosted Buffalo, Clayborn was reunited with Micah Hyde, who had seven tackles and two interceptions in the game.
 
"It's cool to see guys," Clayborn said. "There are a lot of us that stay close after we got done here. We stay pretty tight."
 
Clayborn also runs into several Big Ten Conference alumni who didn't enjoy their visits to Iowa City as much as Clayborn, Hyde, and all the other NFL Hawkeyes.
 
"All the guys I play against from the Big Ten tell me about what you guys have here," Clayborn told the current Hawkeyes. "They hate playing against us because of the run game, our stingy defense, because we take it to people. I want you guys to embrace what you have here and to play together."
 
Iowa (3-2 overall, 0-2 Big Ten) hosts Illinois (2-2, 0-1) on Saturday with kickoff scheduled for 11:01 a.m. (CT).