Hawkeye Fan Shop — A Black & Gold Store | 2017 Football Season Tickets | Kinnick Edge | Fight For Iowa
Editor's Note: The following first appeared in the University of Iowa's Hawk Talk Daily, an e-newsletter that offers a daily look at the Iowa Hawkeyes, delivered free each morning to thousands of fans of the Hawkeyes worldwide. To receive daily news from the Iowa Hawkeyes, sign up HERE.
By DARREN MILLER
hawkeyesports.com
 
IOWA CITY, Iowa — On most football Saturdays, decisions made by referee Dan Capron are met with a 50 percent approval rating and chastised by the other half.
 
But for a moment between the first and second quarters of the Illinois-Iowa game Oct. 7, Capron and his officiating crew had unanimous support from 69,894 fans inside Kinnick Stadium.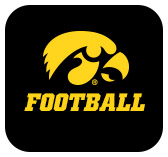 Call it a wave of support, if you will.
 
It stems from a fresh tradition that took legs in late May by a social media post: Wouldn't it be neat, the Facebook poster wondered, if fans would pause after the first quarter of every home game in Kinnick Stadium and wave to children and their families watching from across Hawkins Drive high above in the University of Iowa Stead Family Children's Hospital?
 
The simple, powerful movement has been universally adopted — even by game officials.
 
So when the first 15 minutes expired in Iowa's Homecoming game, Capron, his seven-member crew and one alternate, turned east and joined fans and players in the fourth edition of the inspirational wave.
 
"It's emotional because at the heart of it you're dealing with very sick children," said Capron, who lives in Chicago. "This game of football pales in significance when you think about what those kids are dealing with.
 
"I'm glad in the heat of battle, in a Big Ten football game, which in its own context is very important to the kids, parents, coaches, and alumni, you can take 30 seconds and put it in perspective when you look at what those kids are dealing with up there in that hospital."
 
Capron is in his 18th season as a Big Ten football official and he has been part of several league rivalry games like the annual skirmishes for the Old Oaken Bucket or Paul Bunyan's Axe. But the wave is unique and special, according to Capron.
 
"There is nothing like that," he said. "Nothing strikes to the chords of the heart like the one that is done here at Iowa. All schools have their traditions, but I can't think of anything that occurs during the game of this type."
 
This was Capron's first trip to Iowa City since the wave began Sept. 2 when Iowa hosted Wyoming. But late in the summer he heard talk while working an Iowa scrimmage during camp.
 
"It has been an honor to participate in it," Capron said. "My entire crew was very much looking forward to engaging in the wave. We officials talk among ourselves during the week and I watch football on TV when I'm not officiating, so I was very much aware of it coming into today's game."
 
So were Illinois players and coaches.
 
Illini head coach Lovie Smith was asked if it was spontaneous that some of his players participated in the wave.
 
"You said some, I was hoping you would say all," Smith said. "It is a great thing the University of Iowa does to bring a smile to the faces of children who are going through quite a bit. We knew that coming in and wanted to be part of it. It was planned."
 
After the month of September, the Kinnick Stadium wave has received publicity from sports outlets ESPN, FOX Sports, and BTN, and has even been picked up by national news media. It is being hailed as one of the best traditions in college football.
 
And no one tires of hearing the tale.