Hawkeye Fan Shop — A Black & Gold Store | 24 Hawkeyes to Watch – 2017-18 | Fight For Iowa | VIDEO — Sunday Conversation
By DARREN MILLER
hawkeyesports.com
IOWA CITY, Iowa — The University of Iowa earned its first Big Ten victory Saturday by playing 60 minutes of complementary football.
 
Iowa enters its bye week with a record of 4-2 overall, 1-2 in the Big Ten.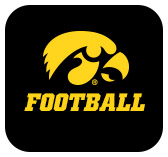 "It was a tough, competitive conference game," Iowa head coach Kirk Ferentz said Sunday. "That's what you expect when you're playing Big Ten games. It was good to see our guys hang in there and keep pushing forward."
 
Ferentz touches on special teams, turnover margin, and goals for the bye week during his weekly Sunday conversation with hawkeyesports.com.
 
Breaking the game open for a victory on Homecoming
"It was a tough, competitive conference game. That's what you expect when you're playing Big Ten games. Illinois came in well-prepared and they played aggressively. It was good to see our guys hang in there and keep pushing forward. (We) came up with big plays right before the half and to start the second half. The fourth quarter I thought the team took things under control. It was a hard-fought victory for us."
 
Special teams play in the first half
"The on-side kick came after the penalty after the first touchdown, so we were kicking off from the 50. (It was) something we saw on film, thought we might have a chance to execute: Miguel Recinos did a great job with the kick and Matt Hankins did a great job of keeping the ball in play and gaining possession, so we stole a possession there. Then right before the half we felt we needed a little spark so we ran a fake punt and the execution was good; it was a good scheme by the special teams coaches, the guys up front blocked well, and Amani Hooker had a big gain. The offense was able to take that and capitalize a couple plays later and get us in the end zone before half to give us a lead and momentum."
 
Miguel Recinos is doing well on field goals and kickoffs
"It's interesting, both the kickers who were competing back in the spring were OK. They didn't have the consistency we were hoping for, but Miguel has come on, done a nice job, and been consistent through six games — not only his field goals, but his kickoffs have been excellent and that's something we're pleased with.
 
"The kickoff team has done a good job. This is about as good as we have seen in many years with our kickoff team. Yesterday is an example. They had a ball downed inside the 15-yard line. Those guys have been covering well, Miguel has given us a chance to cover, and it's good when you can make the other team start out with bad field position. That has been a positive and overall our special teams have been healthy this year and I think we can still get better."
 
The Pick Six by Brandon Snyder, turnovers gained
"We are doing a good job in the takeaway department and that is always important. Brandon's pick gave us a big, big boost. (Illinois was) driving the ball a little bit and he came up with a pick and took it 89 yards for the touchdown, so that was a big spark for us as a team. It got us on track. The two possessions prior to that offensively we had come up just short on a first down and we were three-and-out. That kind of got us going and after that, the offense got on track."
 
Goals during the bye week
"The first thing was to get our first Big Ten win. In retrospect, the two losses we have had — the last play against Penn State and then coming up a touchdown short in East Lansing, Michigan — those are two good teams we have lost to. It was good to get the win, now hopefully we can build on that. We made a couple more adjustments with our lineup putting Tristan Wirfs in at right tackle and Ryan Gersonde at punter. I think we're getting an idea of where we are at with our personnel, what our best combinations are right now, and it gives us a chance to work a week on those combinations and also push our whole team forward.
 
"We have some veteran players who are doing a really good job, but we have a lot of younger players in the mix, too, that can use these three days of practice to sharpen things up and build a better fundamental base."
 
Iowa returns to action Oct. 21 at Northwestern (2-3, 0-2). The Wildcats play at Maryland on Saturday.