Hawkeye Fan Shop — A Black & Gold Store | 24 Hawkeyes to Watch – 2017-18 | Fight For Iowa
Editor's Note: The following first appeared in the University of Iowa's Hawk Talk Daily, an e-newsletter that offers a daily look at the Iowa Hawkeyes, delivered free each morning to thousands of fans of the Hawkeyes worldwide. To receive daily news from the Iowa Hawkeyes, sign up HERE.
By RICK BROWN
hawkeyesports.com
 
IOWA CITY, Iowa — Sunday afternoon is an important day around the Stew and LeNore Hansen Football Performance Center.
 
The University of Iowa football team and coaches gather to watch film of the previous day's game. That film provides a blueprint for improvement.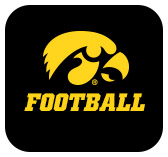 Defensive tackle Garret Jansen has usually gone into these film sessions in the role of a supporting actor instead of the lead character. The Hawkeyes have good depth at Jansen's position, and he hadn't played a lot of snaps to critique on film.
 
Jansen has spent a majority of his time watching starting right tackle Nathan Bazata do his work in the Big Ten trenches.
 
"Nate has been a role model for me," said Jansen, a 6-foot 2-inch, 280-pound redshirt sophomore from Pella. "I try to emulate what he does."
 
But Sunday's latest film session was a little bit different. Bazata left Saturday's 45-16 Homecoming victory over Illinois in the second quarter with an arm injury.
 
Jansen heard, "We need a defensive tackle," and he ran onto the field.
He got his most significant action as a Hawkeye, filling Bazata's spot in the rotation for the remainder of the game. Jansen also recovered a fumble that led to Iowa's final touchdown.
 
"We talk about "Next Man In' all the time," Jansen said. "Coach (Reese) Morgan harps on being ready to play every week. It hasn't happened for me up to this point. I knew I needed to be ready in case it ever did happen. I'm just thankful I got the opportunity to go out there and play."
 
Whenever Bazata needs a break in practice, he shouts out, "Garret, Jansen, get in there."
 
Saturday wasn't practice. It was the real thing.
 
"When he ran off it was natural for me to run on," Jansen said.
 
Saturday was the most extended taste of college football for Jansen, a four-year starter and two-time all-state selection at Pella High School. He played in 12 games last season, mostly on special teams. He'd seen limited duty in the first five games this season. Saturday was a much bigger sample size.
 
"I think for jumping in there I did OK," Jansen said.
 
Jansen wasn't shocked by what he saw.
 
"I kind of expected the speed and all that, just from being in there last year," Jansen said. "There was not too much that was surprising."
 
Morgan, Iowa's veteran defensive line coach, has rotated eight players on the line this season, and has more depth there than in other seasons. For Jansen, getting in that rotation has been an uphill climb at times, but his teammates wouldn't allow him to get discouraged.
 
"It was a little frustrating, just being honest," Jansen said. "But Nate (Bazata), Sam Brincks, Parker Hesse, all those guys encouraged me to stay positive so that was helpful. My family and friends have been a great support system for me. And lots of prayer."
 
Jansen said that getting the call and running onto the field at Kinnick Stadium got his engine running.
 
"Your blood gets pumping, you get a little adrenaline, and you just go out and do the best you can," Jansen said.
 
Jansen tried to stay in the moment once he got into the rhythm of the game.
 
"I just focused on going out there, doing my job, and being accountable to what I do in order for the defense to have success," Jansen said.
 
He called Saturday an "awesome" experience.
"It was fun to get out there, know that my teammates trust me, and be a team player," Jansen said.