Hawkeye Fan Shop — A Black & Gold Store | 2017 Football Season Tickets | Kinnick Edge | Fight For Iowa | VIDEO — Brian Ferentz Talks Offense | Brian Ferentz News Conference Transcript (PDF)
Editor's Note: The following first appeared in the University of Iowa's Hawk Talk Daily, an e-newsletter that offers a daily look at the Iowa Hawkeyes, delivered free each morning to thousands of fans of the Hawkeyes worldwide. To receive daily news from the Iowa Hawkeyes, sign up HERE.
By DARREN MILLER
hawkeyesports.com
 
IOWA CITY, Iowa — Cole Banwart, Noah Fant, T.J. Hockenson…
 
There were 13 freshmen or sophomores on the Iowa football depth chart prior to the Hawkeyes' 45-16 Big Ten Conference victory over Illinois on Oct. 7.
 
Alaric Jackson, Ivory Kelly-Martin, Levi Paulsen…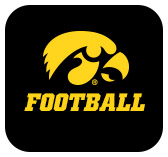 Iowa's balanced attack gained 250 yards through the air and 191 on the ground.
 
Brandon Smith, Ihmir Smith-Marsette, Brady Ross…
 
The Hawkeyes won the turnover battle, 4-2.
 
Nate Stanley, Nate Wieting, Tristan Wirfs, Toren Young…
 
Iowa gained 5.0 yards per rushing attempt.
 
A small sample size? Sure. Against a Big Ten West contender? Not exactly. But it was Iowa's most recent outing, demonstrating how far this young offense has come in six weeks and how much potential available to close the second half with a fury.
 
"These young guys are playing," Iowa offensive coordinator Brian Ferentz said Wednesday in the Stew and LeNore Hansen Football Performance Center. "Can we continue to improve and how much better can we get?"
 
Iowa sits midway through its bye week with a record of 4-2 overall, 1-2 in the Big Ten. There have been good: 497 yards at Iowa State and 441 against Illinois. There has been not-so-good: 19 rushing yards on 25 attempts at Michigan State.
 
"The first thing we need to do is establish our run game with consistency," Ferentz said. "We're sitting at 3.7 (yards) a carry, and that's not going to help us win any Big Ten games."
 
In the first six games, the Hawkeyes ran the ball 227 times for 832 yards and six touchdowns. Ferentz wants to get the yards-per-attempt closer to 5.0. Iowa averaged 4.5 yards per carry in 2015 and 2016.
 
"If you're averaging over five (yards) a carry, you have a pretty good football team and a pretty healthy run game," Ferentz said. "If you're somewhere around 4.5, you're probably playing winning football, at least for us and our numbers. But if you're below that, it's not good enough."
 
Senior running back Akrum Wadley has been the workhorse with 483 yards and four touchdowns (he also has 15 receptions and three scores through the air). Two freshmen — Young and Kelly-Martin — have increased their reps since senior James Butler went down with an arm injury against North Texas. Young has rushed for 110 yards and Kelly-Martin has 94 yards, two touchdowns, and a team-leading 6.7 yards per carry.
 
"I think we would be a silly not to look at playing guys like Toren or Ivory more on first and second down in the coming weeks without James," Ferentz said.
 
Iowa started four freshmen and a sophomore on offense against Illinois: freshmen Jackson and Wirfs on the line, freshman Young in the backfield, freshman Hockenson at tight end, and sophomore Stanley at quarterback. Ferentz said Stanley has exceeded expectations through the first half of the season, completing 58 percent of his passes for an average of 215 yards a game. He has thrown 15 touchdowns and two interceptions.
 
"His efficiency numbers have been impressive," Ferentz said. "I feel good about how he has grown as the season has gone on. The benefit to a young guy like Nate, who is 19 years old, he's in his first year as a full-time starter and he has seen more defensively in six games than a lot of guys do maybe in two years. That is because of the schedule we've played and how people have chosen to defend us. That's a real positive. How he's handled it along the way, also very positive."
 
Iowa freshmen and sophomores have been on the receiving end of 38 passes for seven touchdowns this season.
 
"We have young receivers playing really well," Ferentz said.
 
The young Hawkeye offense seeks further growth Oct. 21 at Northwestern. Kickoff is set for 11 a.m. (CT) from Ryan Field in Evanston, Illinois.