Hawkeye Fan Shop — A Black & Gold Store | 2017 Football Season Tickets | Kinnick Edge | Fight For Iowa
By JAMES ALLAN
hawkeyesports.com
IOWA CITY, Iowa — The bye week gave the University of Iowa defense a chance to look at the first half of the 2017 season with a fine tooth comb.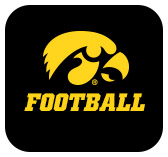 During the first six weeks, the Hawkeyes ranked 21st nationally in scoring defense, giving up 18.7 points per game, but Iowa's defense bent.  It allowed 400 or more yards three times and surrendered an average of 388.3 yards per game.  Nearly 150 yards (145.7) came on the ground.
 
"Points-wise we have done well, but we have given up yards," said senior linebacker Ben Niemann. "We have been able to get stops in the red zone, but we need to not let teams down there to begin with. That comes with flying to the ball, being fundamentally sound, and eliminating big plays."
 
The latter will be important when the Hawkeyes open the second half of the season Saturday at Northwestern. The Wildcats are 3-3 overall, 1-2 in Big Ten play following their 37-21 road victory at Maryland on Oct. 14.
 
Northwestern's offense came to life in College Park, piling up 531 yards of total offense.  Senior running back Justin Jackson had a career-high 171 rushing yards and two touchdowns to lead the Wildcats to their first Big Ten victory of the season.  He became the school's all-time leading rusher in the process.
 
"They're tough," said sophomore safety Amani Hooker. "They execute and have a good running back, quarterback, and a lot of good skill players. They're a good team."
 
Jackson and senior quarterback Clayton Thorson give Northwestern a solid 1-2 offensive punch.  Jackson is fourth in the Big Ten, averaging 85 rushing yards per game. He has 510 yards (4.7 per carry average) and six touchdowns in six games.
 
Thorson is third in the Big Ten in passing, averaging 249.3 yards.  He is completing 60.4 percent of his attempts for 1,496 yards and eight touchdowns (but he has nine interceptions).  Four different Wildcat players have 21 or more receptions.
 
"(Thorson) is an elusive quarterback," said senior Josey Jewell. "He can run the ball and throw it well. We'll have to be ready for him doing his dual-threat thing. We'll have to keep him contained."
 
Northwestern's offense will spread the Iowa defense out to run the ball, while targeting receivers underneath to create mismatches in space.
 
"You have to be detailed up front with the defensive line," said Jewell. "You have to get them in the right spot and spill things outside because when you're spread out you don't have a lot of guys in the middle right behind the defensive line. Being detailed is going to be huge."
 
Communication will be imperative to combat the Wildcats' short passing game. 
 
"If you see someone crossing your face, you have to pass it on because someone is coming back," said Hooker. "You have to know where your help is."
 
Niemann said the break at the mid-point of the season fell at the perfect time. The team was able to get its legs back for the home stretch — a six-game slate to close out the regular season.
 
"Our goals are still out there," said Niemann. "Looking at the schedule, we have a chance to be in every game we play. We are not trying to look at the big picture; it's one day at a time. We're focusing on Northwestern and we'll go from there.
 
"We're trying to stay focused and get better every day. That's what it comes down to."
 
Saturday's game will begin at 11 a.m. (CT) at Ryan Field.  The game will be televised on ESPN2 with Jason Benetti, Kelly Stouffer, and Kris Budden on the call.