Hawkeye Fan Shop — A Black & Gold Store | Hawk Talk Monthly — October | 24 Hawkeyes to Watch — 2017-18 Season
By JACK ROSSI
hawkeyesports.com
 
IOWA CITY, Iowa — While Iowa head football coach Kirk Ferentz and his staff handle business on the gridiron, when the players leave the field, director of player development Broderick Binns handles the rest.
 
Binns' name may ring a bell. As a defensive end for the Hawkeyes from 2008-2011, Binns was a second team All-Big Ten selection and Roy J. Carver Most Valuable Player Award recipient on defense his senior year.
 
Binns has returned to the Iowa football staff and, after serving as a graduate assistant for special teams in 2014 and 2015, was named to his new role in April, 2016.
 
"I am very honored and humbled by this," Binns said. "We have a few guys that have played for Coach Ferentz before and are back on staff, so I am humbled to be back. My time was very positive and now being able to help with the development of the current guys is huge."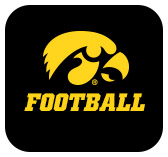 When a player steps onto campus, Binns is there for them to help make the transition to college as smooth as possible.
 
"I help with the freshmen transition coming from high school to college," Binns said. "Anything they need whether it is help budgeting, academics, or community service. Those are the areas I help in."
 
Binns' college football background gives him a unique perspective when helping incoming student-athletes make the transition because he was asking the same questions his freshman year.
 
"I've been in their shoes," Binns said. "I've been recruited, played here, and am now back on staff, so I know Iowa City and know what it means to be a freshman football player."
 
He's the guy with all the answers.
 
"The questions I get asked most are, 'where is this class?', 'how do I get to this building?', 'what time am I lifting?' The parents like to know their kids are being treated right."
 
Binns is a good resource for the students and spearheads the football team's community service activity as well. The Hawkeyes put thousands of hours into the community throughout the year and it starts with Binns.
 
"We spread out a lot in Iowa City and help out where we can," Binns said. "We do visits in the hospital to visit patients, go to the Salvation Army, and the Ronald McDonald house."
 
Iowa football is involved in additional organized activities such as the Read to Dream program involving Hawkeye players and local elementary schools.
 
With many players leaving home for the first time in their lives, Binns provides the home away from home feel and communicates with parents.
 
"Once the player signs a waiver we are allowed to talk to parents about academics and how they are doing in school," Binns said. "Most of our guys are doing a good job and when a parent calls, it's always good things."
 
Binns and the Hawkeyes (4-2, 1-2) return to action this Saturday to face Northwestern (3-3, 1-2) in Evanston, Illinois. Kickoff is set for 11:01 a.m. (CT) on ESPN 2. Live stats and a live radio stream are available on hawkeyesports.com.