Hawkeye Fan Shop — A Black & Gold Store | 2017 Football Season Tickets | Kinnick Edge | Fight For Iowa | Freshman Spotlight: Geno Stone | Freshman Spotlight: Ihmir Smith-Marsette | Freshman Spotlight: Ivory Kelly-Martin | Freshman Spotlight: Matt Hankins | Freshman Spotlight: A.J. Epenesa | Freshman Spotlight: Tristan Wirfs | VIDEO — Noah Clayberg
Editor's Note: The following first appeared in the University of Iowa's Hawk Talk Daily, an e-newsletter that offers a daily look at the Iowa Hawkeyes, delivered free each morning to thousands of fans of the Hawkeyes worldwide. To receive daily news from the Iowa Hawkeyes, sign up HERE.
By DARREN MILLER
hawkeyesports.com
 
IOWA CITY, Iowa — January 17 is a holiday of sorts for University of Iowa freshman Noah Clayberg.
 
On that day in 2017, Clayberg was allowed to join the Hawkeye football program for offseason workouts after spending the first semester as one of 25,000 "regular" students at the university.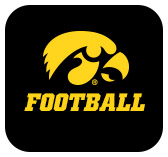 "My first day we had to get up really early and come in and work out," Clayberg said. "I was saying to my buddies, 'I have never been more excited to get up at 4:45 to get over here.' I had been looking forward to it since I made the decision to commit to Iowa. That break was long — the first semester was kind of weird, but after a long while, it was finally time. I was pumped."
 
Clayberg committed to Iowa after leading Pella (Iowa) High School to back-to-back Class 3A state championships. He was named Gatorade Player of the Year in 2015.
 
Clayberg spent the months of August through December as a gray shirt, meaning he enrolled as a part-time student, but could not participate in team functions. That is why Jan. 17 was such a significant day for him and the Hawkeyes.
 
During his first semester, Clayberg independently trained with former Hawkeye Marvin McNutt, who set the school's all-time receiving yardage record from 2008-11. McNutt provided insight to Clayberg that allowed him to acclimate quickly to the ins and outs of the program when he began practice.
 
"Noah is a tremendous young man with a great work ethic and he has done a good job with the out-of-season program," Iowa head coach Kirk Ferentz said.
 
After playing quarterback, defensive back, linebacker, and punter for Pella, Clayberg began his college career at running back. A dual-threat quarterback for the Dutch, Clayberg passed for 3,654 yards and 40 touchdowns and rushed for 4,754 yards and 72 touchdowns.
 
Then the Hawkeyes were looking for depth in the defensive secondary, especially when safety Brandon Snyder went down with an ACL injury in the spring.
 
"Noah played some offense, then we really had a need on defense, so he jumped over there," Ferentz said. "He is learning and doing a good job that way and making a contribution on special teams. He is a tremendous guy, good athlete, and a good attitude-player."
 
Coincidentally, Clayberg's father, Brett, took a similar journey as a standout at Central College. Brett moved from running back to defensive back as a sophomore and was second-team All-Iowa Conference before moving back to tailback. He led Central to a surprise share of league championship in 1983, then captained Central's Stagg Bowl team in 1984 that lost to Augustana (Illinois) in the finals.
 
Noah trusted advice from his father.
 
"He told me to adopt the mindset that the coaches will move you where they think is best and you have to trust them," Noah said. "I was just excited to be here at that point, so if they needed me on defense I was going to switch over and do what I could for them there."
 
Noah's mother, Megan, was head volleyball coach at Central from 1991-2002, winning three straight national championships from 1998-2000.
 
But the Claybergs aren't defined solely by athletics.
 
"(Athletics are) very important, not from an aspect of that's where we find our identity," Noah said. "We realize there are a lot of good things you can learn from being an athlete — hard work, discipline, teamwork, and what it means to be part of something and invest your time in a worthy cause. That is why it is so important to find a place that fits your values and the things you want to live by, because that way it makes it easier for you to do what you believe in and have fun while you're doing it."
 
For Clayberg, that place is Iowa.
 
He began as a random college student who arrived early to Kinnick Stadium on game days during the 2016 season. From the bleachers, Clayberg studied the Hawkeyes playing his projected position. In his second fall in Iowa City, he has already compiled special teams tackles against nationally ranked Penn State and Michigan State.
 
"It was cool (being a regular student), but it also made me even more excited to get out there because I saw what it was like," Clayberg said.
 
Iowa (4-2 overall, 1-2 Big Ten) travels to Northwestern (3-3, 1-2) on Saturday. Kickoff from Ryan Field in Evanston, Illinois, is 11 a.m. (CT). The game will be televised by ESPN2.