Hawkeye Fan Shop — A Black & Gold Store | 2017 Football Season Tickets | Kinnick Edge | Fight For Iowa
Editor's Note: The following first appeared in the University of Iowa's Hawk Talk Daily, an e-newsletter that offers a daily look at the Iowa Hawkeyes, delivered free each morning to thousands of fans of the Hawkeyes worldwide. To receive daily news from the Iowa Hawkeyes, sign up HERE.
By DARREN MILLER
hawkeyesports.com
 
EVANSTON, Ill. — Miguel Recinos experienced both sides of the feast or famine lifestyle of being a kicker Saturday at Northwestern.
The University of Iowa junior missed a 37-yard field goal attempt in the first quarter, then waited until 90 seconds remained to drive a 48-yarder through the uprights to send the contest against the Wildcats into overtime.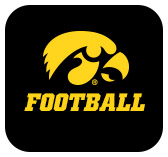 The Hawkeyes lost, 17-10, but the performance of their specialists was a highlight. Ryan Gersonde and Colten Rastetter combined to punt six times for an average of 53 yards per punt. Recinos kicked off three times for an average of 61.7 yards and two touchbacks.
And there was his clutch field goal to force overtime. 
"For Miguel to come back and hit that was not easy," Iowa head coach Kirk Ferentz said. "The wind was to our back, but you have a lot of air moving out there. It was a clutch moment and clutch play. He has done a good job all season."
It was a confidence-boosting boot for Recinos, who for the season is 6-for-8 on field goals. His only other miss was a 36-yard attempt against Penn State that was blocked.
"This is the first miss I hit poorly, then I had to go back and hit probably the biggest kick in my career," Recinos said. 
Iowa opened the game with back-to-back 11-play drives; the second covered 71 yards before Recinos was called on for a 37-yard attempt into the wind. He missed to the left.
"I didn't take enough time in my setup to get settled in," Recinos said. "I rushed it a little bit. It was an amateurish mistake and I guess these things happen, but it is a good learning experience to move on from."
Recinos flushed the miscue quickly, but he had to wait the remaining 18-minutes, 12-seconds of the first half and the first 28:30 of the second before getting an opportunity for redemption.
"It goes through your mind," Recinos said. "You think, 'Well, the offense is down by three (points) and we missed the kick. You feel a huge portion of the blame and I was more than partly to blame for us losing this game. But when you get the next kick, it has to be the next kick. You can't allow the past to affect your future."
Iowa started its final drive of regulation from its 30-yard line with 5:30 remaining. The Hawkeyes moved the chains twice on third down with a 9-yard completion from Nate Stanley to T.J. Hockenson and a 7-yarder from Stanley to Noah Fant. On fourth-and-1 from the 26, Iowa kept the offense on the field until a false start penalty moved the Hawkeyes back to the 31. 
Recinos jogged on the field.
Rastetter, the holder, asked where Recinos wanted the ball placed.
"Let's go middle," he said. "I have the wind, so if I hit it strong, it's not going to be pulled in any direction."
Tyler Kluver made the snap, Rastetter had the hold, and Recinos sent the game to overtime. 
"It's probably one of the most significant kicks of my career, so it was nice to go in and execute," Recinos said. "It is incredibly simple if you make it simple. I don't think about the situation, I say, 'This is a 48-yard field goal and we need these points.'
"When the ball was snapped, I didn't hear a timeout call in that split second, so I knew this was do or die. It's a Zen moment, so to speak."
This is Recinos' first season as Iowa's primary kicker, but he converted last season in a crucial game against Wisconsin. The Hawkeyes trailed, 7-3, when Recinos went out for a 47-yard attempt with five seconds before halftime. Wisconsin called timeout. Then another. It was to no avail.
"I hadn't been in a situation to win the game or tie it to send it to overtime (before Saturday)," Recinos said. "The closest thing was last year against Wisconsin."
It was his only make in three attempts in 2016 when he was more of a long-range specialist. This season, Recinos has converted all 21 point-after attempts and is 4-of-4 in field goals from 42-48 yards. 
The Hawkeyes slipped to 4-3 overall, 1-3 in the Big Ten after Saturday's overtime loss. In the feast, famine, flush it world of a kicker, Recinos offered a final postgame thought.
"It is on to Minnesota."