Hawkeye Fan Shop — A Black & Gold Store | 24 Hawkeyes to Watch – 2017-18 | Fight For Iowa | VIDEO — Sunday Conversation
By DARREN MILLER
hawkeyesports.com
IOWA CITY, Iowa — University of Iowa head football coach Kirk Ferentz emphasized a not-so-secret way to win football games in the Big Ten Conference:
 
"Being able to maximize opportunities in tight ball games," Ferentz said Sunday during an interview with hawkeyesports.com.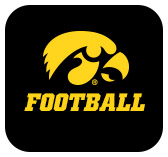 All three losses for the Hawkeyes this season have come by one score: 21-19 to No. 2 Penn State, 17-10 at No 16 Michigan State, and now 17-10 in overtime at Northwestern.  Iowa (4-3 overall, 1-3 Big Ten) won at Iowa State, now ranked No. 25, 44-41 in overtime.
 
"The biggest thing for us to focus on now is how do we minimize some of those errors that are keeping us from being successful?" Ferentz said. "We are going to be in a lot more close games I would imagine in the next five weeks."
 
Next up for the Hawkeyes is a night game in Kinnick Stadium against Minnesota (4-3, 1-3). The traveling trophy Floyd of Rosedale, which has been in Iowa City since 2015, is at stake.
 
"Every game is important, but trophy games are significant," Ferentz said. "We're going to fight hard to keep Floyd in our building, that is important to us. It's always great to be back home; it is a challenge to win on the road, but if you are going to be a good team, you have to learn how to do that. It's great to be in Kinnick at night time — the atmosphere will be great."
 
Here are other topics Ferentz touched on:
 
LOOKING BACK
"For the most part we played well and consistently, not quite good enough to win, unfortunately. We held (Northwestern) to 10 points in regulation. I was impressed with the way the guys made adjustments and kept playing. With (senior linebacker) Josey (Jewell) not being able to go, Ben Niemann, who had worked some at (middle linebacker), jumped in and did a good job. Kevin Ward took (Niemann's) spot. We still had the luxury of having three seniors in there who are pretty experienced guys. They did a good job. Overall, the team played cohesively.
 
"Probably as big a play as any was the time (Northwestern) quarterback (Clayton Thorson) pulled it down on third-and-15 and he had a plus-20 run. That might have been as tough of a play as we had. We got a little out of our gaps, he pulled it down, and made a nice play.
 
"Northwestern made some plays; they didn't really have many explosive-type plays, but they hit some that moved the chains. Collectively, we did a good job and in the fourth quarter stopping them on downs in some tough circumstances; it is easier said than done when a team offensively knows they have four downs to play with. It gives them an advantage strategy-wise on third down to do things they normally don't do. Credit to our defense coming up with those four-down stops."
 
11-PLAY SCORING DRIVE AT THE END OF REGULATION
"There were some good things there — you go back to our first drive — we hit the big play to (wide receiver Matt) Vandeberg to spark us. To drive the ball down there to put it in field goal position was a good drive for us. Even in that drive, there were things that encapsulate where we are right now; we missed a coupled close plays that, if we convert those, we are able to go on and score a touchdown rather take the field goal. Obviously they make a big difference in the game.
 
"To (kicker) Miguel (Recinos') credit — he missed (a field goal) earlier in a tough circumstance going into the wind, but came back and that was no routine field goal. Nice boot to put us into overtime."
 
SITTING 4-3 OVERALL
"We're not happy having three losses, that was not the plan by any stretch. You look at the three losses, all three to good teams, and basically they are one-score games. Two games by a touchdown and the Penn State game you can pick one of probably five plays in that game that changes the whole thing against a very good team."
 
UPDATE ON JEWELL, BRANDON SNYDER
"They are both week-by-week guys. I think Josey has a realistic chance; we thought he might have a chance last week, but he didn't quite make the bell at the end. There is a good chance we will have him back this week. If so, we will move Ben back out. If not, we will keep Ben in the middle. Brandon is probably a week or two away, but he is making good progress. We're optimistic we'll get him back in the near future. Hopefully sooner than later.
 
FAN SUPPORT IN EVANSTON, ILLINOIS
"When we go on the road, especially in places like Chicago, the fans turn out well. We appreciate their support, they were great and enthusiastic. I'm sorry we couldn't bring the victory home for them. Hopefully we'll do that this week and I know we'll have a great crowd in Kinnick. Kinnick is always electric at night, so I know our players will be excited about that. Hopefully we will be ready to play a good football game."
 
Iowa hosts Minnesota on Oct. 28 with kickoff scheduled for 5:30 p.m. (CT). To purchase tickets, click HERE.