24 Hawkeyes to Watch – 2017-18 | Hawk Talk Monthly — October | WBB Tickets | Photo Gallery | Lisa Bluder Media Day Transcript (PDF)
By JAMES ALLAN
hawkeyesports.com
IOWA CITY, Iowa — The University of Iowa women's basketball team has just 11 players on its 2017-18 roster, but they're the right 11 Hawkeyes.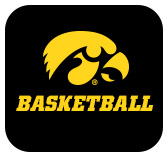 The team has four starters and nine letterwinners returning from a team that went 20-14 and advanced to postseason play for a 10th consecutive season.  The group includes six upperclassmen and five underclassmen.
 
"When you look at our roster, you can see we are small in numbers, but I can assure you this group is mighty in spirit," Iowa head coach Lisa Bluder said Monday at an Iowa Women's Basketball Media Day news conference in the Feller Club Room inside Carver-Hawkeye Arena.
 
"We only have 11 players, but I feel that is all the pieces we need to compete.  This group has so much grit to them. They have been a joy to coach so far."
 
The Hawkeyes return starters Megan Gustafson, Tania Davis, Kathleen Doyle, and Makenzie Meyer — a quartet that combined to average 45.4 points and 18 rebounds per game last season.
 
Iowa also welcomes back senior Chase Coley, juniors Hannah Stewart and Carly Mohns, and sophomore Amanda Ollinger to go along with three freshmen in Alexis Sevillian (redshirt), Zion Sanders, and Paula Valino Ramos.
 
It all starts with Gustafson, who was named to the coaches' and media preseason All-Big Ten team on Monday. The 6-foot-3 center was a first-team All-Big Ten honoree as a sophomore after averaging a double-double at 18.5 points and 10.5 rebounds. 
 
She shot 64.7 percent from the floor and ranked in the top 30 nationally in seven different categories. Gustafson has the third-best returning field goal percentage of any player in the country.
 
"I don't think I have ever coached someone that is such an eager learner and somebody that works as hard on every single possession as Megan," said Bluder. "She's an amazing player."
 
Bluder received an early Christmas present with the early return of junior guard Tania Davis.  Davis was expected be out until December after suffering an ACL injury last February, but instead, she is expected to be available for the season opener. Davis averaged 10.9 points, 4.3 assists, and 3.7 rebounds last season.
 
Davis' return gives the Hawkeyes a strong 1-2 point guard punch with sophomore Kathleen Doyle (9.2 points, 4.4 assists) — a Big Ten All-Freshman Team selection in 2017-18.  The duo will be interchangeable Hawkeyes.
 
"(Tania and Kathleen) will share the point guard role," said Bluder. "We're going to have a system that showcases both of their abilities at point guard even when they're on the floor at the same time."
 
Iowa will be without its emotional leader and second-leading scorer Ally Disterhoft, who exhausted her eligibility last season. Bluder says it will be a group effort to replace Disterhoft's production.
 
"Ally left here as the school's all-time leading scorer," said Bluder. "She was a four-year starter, an amazing basketball player, and a tremendous student. One person is not going to replace Ally, just like one person couldn't replace Sam Logic.
 
"Everybody has to get better, it has to be a group effort. I think our team is up to the challenge. They did a great job this summer and all embraced that we all needed to get better, and I feel like they did."
 
After missing the past two NCAA Tournaments, Bluder doesn't believe there is an urgency to get back to the Big Dance, but rather a desire.
 
"It drives you," said Bluder. "It's exciting that you have this extra motivation. We want to be back in the NCAA Tournament. It's something Iowa women's basketball is known for, and we want to be there."
 
Iowa hosts Minnesota State-Moorhead in an exhibition contest Nov. 5 in Carver-Hawkeye Arena. The Hawkeyes open the regular season Nov. 10, facing Quinnipiac in the first game of the 2017 Hawkeye Challenge.