Hawkeye Fan Shop — A Black & Gold Store | 24 Hawkeyes to Watch 2017-18 | Hawk Talk Monthly — October | 2017 Football Tickets
By JACK ROSSI
hawkeyesports.com
 
IOWA CITY, Iowa – When Iowa freshmen football players arrive at the University of Iowa, they better be prepared to spend a lot of time with strength and conditioning coach Chris Doyle.
 
Doyle's name has become synonymous with Iowa football, and in each of the last 19 years, Doyle has been tasked with turning boys into men.
 
"We spend more time with the players than anybody else in our building," Doyle said. "We are comfortable with who we are. We are a developmental program. We are going to train hard and we are going to train year round."
 
Part of the players' development is projecting what position and weight a player is best at and that involves multiple tests and analysis by Doyle.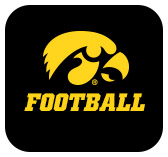 "First we look at a functional movement analysis to evaluate how the guy moves from left to right and front to back," Doyle said. "We are looking at a lot of different functional movement patterns to see how they move. Secondly, we run performance tests to see how well they run straight ahead, change directions, and jump vertically. Lastly, we look at their height, weight, and body composition."
 
Doyle and the staff continually reassess each player over the course of their career at Iowa.
 
Strength and conditioning became a focal point at Iowa with the arrival of coach Ferentz and Doyle in 1999. It continues to be reinforced by a strong commitment from the UI athletic department.
 
"It started when we came here in '99," Doyle said. "It's been made important at Iowa from the beginning and that started at the top with Coach Ferentz and his vision for where he wanted to go with Iowa football. The university has given us incredible resources to work with."
 
Over the years, rule changes by the NCAA have allowed tweaks by Doyle and the rest of the football staff when developing student-athletes. One of the most notable went into effect on August 1, 2014, allowing unlimited snacks and food to division I athletes.
 
"That change was an opportunity to positively and profoundly the impact and growth of our young people," Doyle said.
 
The rule change has already had a major impact on the defensive line. Anthony Nelson, Matt Nelson, and Parker Hesse have grown into their roles on the defensive line despite never playing the position before college. It's all part of Doyle's process.
 
"Some schools recruit 290 pound linemen, plug them in, and push play, but that's not how we operate," Doyle said. "Parker (Hesse) was a 208 pound quarterback and is now 260 pounds, Anthony (Nelson) was 216 pounds and now he is 265 pounds, and Matt (Nelson) was 225 pounds and is now 290 pounds. These guys have gained over 150 pounds of good, lean, functional body mass to play defensive line."
 
While the program has the resources available to the student-athletes, the other component is infusing the Iowa football culture, which starts freshman year.
 
"We clearly define expectations and it's important we do that at the beginning," Doyle said. "We develop behaviors that are going to lead them to fulfill those expectations, and then you want them to repeat those behaviors over time so they become successful."
 
Coach Doyle and the Hawkeyes return to Kinnick Stadium this Saturday to face Minnesota in a battle for Floyd of Rosedale. Kickoff is set for 5:35 p.m. (CT) and will air on Fox Sports 1. Tickets are available on hawkeyesports.com or over the phone at 800-IA-HAWKS.