Hawkeye Fan Shop — A Black & Gold Store | 2017 Football Season Tickets | Kinnick Edge | Fight For Iowa | 24 Hawkeyes to Watch — 2017-18 Season
By DARREN MILLER
hawkeyesports.com
 
IOWA CITY, Iowa — Jerry Montgomery was in high school when he went to work at a golf course in Mesquite, Nevada. One of the founders of the course was a man named Hayden Fry.
 
Montgomery verbally committed to continue his football career at Southern California; Fry was head coach at the University of Iowa.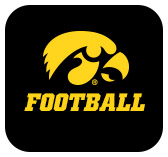 "He treated me like his own," Montgomery said. "He brought me in, I took that official visit (to Iowa) and it felt like home."
 
Montgomery, who will be honorary captain for Iowa's Big Ten matchup against Minnesota on Saturday, switched his commitment and lettered for the Hawkeyes from 1998-2001.
 
Montgomery played on the defensive line for Fry as a true freshman and started his final three seasons for head coach Kirk Ferentz. The Hawkeyes won six regular-season games in 2001 when Montgomery was a senior, then defeated Texas Tech, 19-16, in the Alamo Bowl. He can rattle off memories of the good times, but also recalls the support he and the rest of the Hawkeyes received when things weren't so rosy.
 
"We went through a rough patch when I first got here with Hayden retiring and Kirk coming in," Montgomery said. "We went 1-10 (in 1999), but we still had a sold out crowd in Kinnick and I will never forget that. The fans here are so loyal and great. It's home and it always will be."
 
Montgomery recorded 135 tackles as a Hawkeye. He also registered 20 tackles for loss, five sacks, six pass breakups, and three recovered fumbles. Montgomery remained with the Hawkeyes in 2002 as a student assistant; he seemed destined for coaching at a young age.
 
"I had a gym teacher at Union Middle School in Salt Lake City, Utah, who used to come to school in the adidas three-striped warmups," Montgomery recalls. "I said, 'You know what? I want to coach football and be a gym teacher.'"
 
The next two seasons he coached at Iowa City West High School. He was considering a job in medical sales when his position coach at Iowa, Ron Aiken, called with news: North Iowa Area Community College in Mason City, Iowa, needed a defensive coordinator. There would be a stipend of $1,500 and room and board was provided.
 
"I didn't think twice," Montgomery said. "My wife and two kids moved into a dorm room and it has taken off."
 
From NIACC to Northern Iowa to Wyoming to Indiana to Michigan to Oklahoma to the Green Bay Packers. Montgomery is currently an assistant coach, working with the Green Bay defensive front that includes former Hawkeye Mike Daniels.
 
"I didn't know (football) would put me where I'm at today or that it would take me this far," Montgomery said. "Coach Aiken told me, 'Jerry, you know everything I've taught you and you know it well. You do a great job teaching and coaching and I think this is what you should do.'"
 
The Packers do not play on Saturdays, allowing Montgomery to watch his alma mater every week, whether it is on his couch at home or on the Packers' plane. It wasn't always easy keeping up with the Hawkeyes, especially when he worked at Indiana and Michigan.
 
"I just kind of popped my phone out and checked the scores," Montgomery said.
 
Montgomery hopes for a better reception in Kinnick Stadium than the one he received on his most recent visit in 2011. Then, Montgomery was an assistant coach for the nationally ranked Wolverines and Iowa won, 24-16.
 
"It is going to be different than the last time I was here," Montgomery said. "I was on the other sideline, but I'm excited to see the boys come out in the swarm and get another W."
 
Iowa hosts Minnesota on Saturday inside Kinnick Stadium with a 5:35 p.m. (CT) kick. The traveling trophy Floyd of Rosedale is at stake.