Hawkeye Fan Shop — A Black & Gold Store | 24 Hawkeyes to Watch – 2017-18 | Fight For Iowa
Editor's Note: The following first appeared in the University of Iowa's Hawk Talk Daily, an e-newsletter that offers a daily look at the Iowa Hawkeyes, delivered free each morning to thousands of fans of the Hawkeyes worldwide. To receive daily news from the Iowa Hawkeyes, sign up HERE.
By RICK BROWN
hawkeyesports.com
 
IOWA CITY, Iowa — Jake Gervase had his first career interception Saturday. It came with an assist from teammate Josh Jackson. That seems only fitting.
 
Gervase got an assist from some of his University of Iowa teammates when he went from the starting free safety to the sidelines earlier this season. Now the junior walk-on from Davenport, Iowa, is back on the field.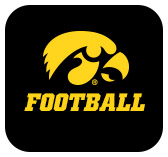 "You have to be mentally tough," Gervase said after a 17-10 victory over Minnesota. "It's not easy getting in and out of the rotation, but you have teammates who pick you up when you're down a little bit."
 
Gervase's up-and-down season started with a big spring game in April. He stepped in for returning starter Brandon Snyder, who suffered a knee injury in spring camp that required surgery. Gervase was the star of that spring game with three interceptions.
 
"He looked like he had the script," Iowa head coach Kirk Ferentz said afterwards.
 
Gervase, who had recorded five career tackles in his first two seasons, would ride that spring performance into the starting lineup for the 2017 season opener against Wyoming.
 
He stayed in the lineup for the first three games, but there were some tough moments. The most obvious came in the Hawkeyes' 44-41 overtime victory at Iowa State in the second game of the season. With the game tied, 31-31, he let the Cyclones' Hakeem Butler get past him for a 74-yard touchdown catch with less than five minutes remaining. Iowa rallied with a late Akrum Wadley touchdown catch and run and won in overtime.
 
"I made a big mistake in that Iowa State game," Gervase said. "It could have cost us the game. Fortunately, it didn't. Our offense picked us up."
 
Gervase also started the following week against North Texas, but was replaced by sophomore Amani Hooker during the game and was relegated to the bench after that. Hooker started the next two games at free safety.
 
When Snyder beat the odds and returned to the field to start against Illinois on Oct. 7, Hooker slid over and replaced senior Miles Taylor as the starting strong safety. Snyder had some swelling in his knee after the Illinois game, and hasn't played since.
 
Hooker stayed at strong safety and Gervase was back in the starting lineup at free safety against Northwestern Oct. 21. And Gervase was there against Minnesota on Saturday, when the Hawkeyes won for the fifth time in the last six meetings with the Gophers.
 
"Everyone was saying, 'Be ready to go if your number is called again,'" Gervase said of his time out of the playing rotation. "I had some upperclassmen talk to me, and (strength coach Chris) Doyle. You have to be ready to go. It comes down to being mentally tough and taking advantage of every opportunity you get."
 
Asked if that resilient attitude said anything about him, Gervase said, 'That's for my coaches and teammates to say.' "
 
It was a character check, and one that Gervase passed in the eyes of Ferentz.
 
"I think one thing I've been pretty consistent about, we're not the greatest team right now, but we have a team that has a good attitude. That's representative of it. He never dropped his chin. I know it didn't sit well with him, obviously.
 
"You wouldn't want it to. He kept working, kept pushing. He's back out there playing right now. I'd say the same thing about Miles. He's taken on a little bit more of a special teams' role now, but his attitude couldn't be better."
 
Iowa's defense was trying to protect a 7-0 lead late in Saturday's first quarter when Gervase got his first career interception. On a first-and-10 play from the Iowa 14, Minnesota quarterback Demry Croft had his pass get tipped away by Jackson near the goal line. A sliding Gervase caught it for a touchback.
 
"I know Josh is manned up on No. 1," Gervase said. "I'm manned up on the back in that situation. I saw the back stay back and block, so I just tried to get a little depth. As soon as I saw him throw it I ran to the ball. That play is all about Josh Jackson. All the credit goes to him."
 
But Gervase was rewarded for being in the right place at the right time, and being resilient enough to work his way back onto the field in the face of adversity.