Hawkeye Fan Shop — A Black & Gold Store | 24 Hawkeyes to Watch 2017-18 | Hawk Talk Monthly — October
By JACK ROSSI
hawkeyesports.com
 
IOWA CITY, Iowa – Tyler Anderson's passion for University of Iowa football came from his grandfather, former defensive coordinator Norm Parker. This is the seventh and final season for Anderson as a graduate assistant on the Hawkeye staff.
 
Anderson was seven years old when the late Norm Parker took a job as defensive coordinator at Iowa with first-year head coach Kirk Ferentz.
 
"Before my grandfather came here he was at Vanderbilt for a couple years then Michigan State, so I watched that for a bit, but I was 7 when he came here, so I have basically been a Hawkeye my whole life," Anderson said.
 
Anderson is now one of Iowa's longest-tenured staff members, having served since he was a freshman in 2010. It's everything he could have asked for.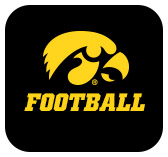 "This is a top-notch organization with great people," Anderson said. "I am fortunate to work with a great staff, great group of guys, and great kids. It's wonderful."
 
As an undergraduate, Anderson's role was a defensive office assistant. Following graduation, he started working with specific positions.
 
During the 2015 season, Anderson worked with the linebackers and now transitioned to the defensive backs. Working with linebackers was a learning experience for him because of the multiple roles that linebackers play on the defense.
 
"It's been awesome to work with (defensive coordinator) Phil Parker," Anderson said. "Linebackers work with run fits and in the pass game, so it was great to learn all of that. Now I am more with the pass game, but it is great to get that experience."
 
 Hoping to become a coach in the future, Anderson's style stems from a lesson from his grandfather.
 
"He told me to be myself and coach your way," Anderson said. "It's not about yelling at the kids or being the loudest one out there. You get their respect through knowledge. When you give them what they need to win, then they will respect you and that is pretty neat. He told me that when I started."
 
With a constantly expanding role at Iowa, during game days, Anderson sits in the press box with the other coaches and talks to defensive coordinator Phil Parker.
 
"I narrate the game and talk to coach Parker," Anderson said. "I tell him the down and the distance, the hash, and the personnel in the game, and situation, so that he makes his calls off of the information that I give him."
 
Moving forward, Anderson is open to whatever comes his way and whatever life brings him.
 
"We will see what life brings, but I am just excited to be a part of the game and be with the guys," Anderson said.
 
The Hawkeyes (5-3 overall, 2-3 Big Ten) host Ohio State (7-1, 5-0), Nov. 4. Kickoff is set for 2:30 p.m. (CT) on ESPN. Fans are encouraged to wear black to honor veterans and military members. Fans may purchase tickets by contacting the UI Athletic Ticket Office at (800) IA-HAWKS, or online at hawkeyesports.com.