24 Hawkeyes to Watch – 2017-18 | Hawk Talk Monthly — October | WBB Tickets
Editor's Note: The following first appeared in the University of Iowa's Hawk Talk Daily, an e-newsletter that offers a daily look at the Iowa Hawkeyes, delivered free each morning to thousands of fans of the Hawkeyes worldwide. To receive daily news from the Iowa Hawkeyes, sign up HERE.
By JAMES ALLAN
hawkeyesports.com
IOWA CITY, Iowa — You can't put a price on the experience Kathleen Doyle and Makenzie Meyer gained during their freshmen seasons with the University of Iowa women's basketball team.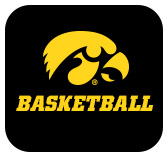 The guards saw action in all 34 games of a 20-win, postseason team during the 2016-17 season. The pair started 53 games — 29 by Doyle, 24 by Meyer — and combined to average 16 points and 6.2 assists.
 
"I am a lot more confident heading into this season," said Meyer. "My decision-making is better and a lot of that comes with confidence and knowing our offense and defense better."
 
Doyle was a defensive, energy-player last season; Meyer was a 3-point specialist. 
 
"Hopefully I can lead our defense and bring energy like I did last year," said Doyle, who was voted one of Iowa's team captains along with junior Hannah Stewart. "That's what I took as my role. This year I want to be more of a vocal leader. As freshmen, you sit back and let other people do that.  This year I am feeling more comfortable and my teammates trust me and I trust them."
 
During the first half of her freshman season, Doyle primarily was Iowa's shooting guard. She slid to the point for the final month after Tania Davis went down with a season-ending knee injury at Michigan State.  
 
"That helped me gain experience and confidence," said Doyle. "Now that I have learned to play both for extended periods of time, I feel like I am more versatile and I can do whatever the coaches want to help us win games."
 
After going down with the injury, Davis watched the freshmen emerge.
 
"They were thrown into the fire and had to defend the Kelsey Mitchells and Tori Jankoskas," said Davis. "That's tough as freshmen when you haven't had to do that.
 
"Now they have the confidence and ability to do those things and their confidence both offensively and defensively is good. Everything is coming together for them."
 
Iowa head coach Lisa Bluder sees parallels between the sophomore duo and a pair of all-time Hawkeye greats.  She compares Doyle to All-American Samantha Logic and Meyer's shooting ability to Melissa Dixon.
 
"I think Kathleen is a better offensive player than Sam was at this point, but they both have that grit," said Bluder. "They both have that tenacious attitude and moxie on the floor and both are tremendous ball handlers and passers.  Kathleen has the edge defensively and on the offensive side from the perimeter. Sam was probably the better inside scoring threat."
 
Bluder says Meyer was Iowa's best 3-point shooter as a freshman when she made 42 3-pointers and shot 35.6 percent.  Meyer says the Hawkeye coaches give her the ultimate green light.
 
"The coaches keep telling me to shoot the ball even if I miss 10 in a row," said Meyer. "Their confidence in me means a lot."
 
Bluder believes Meyers' freshman production was the tip of the iceberg.
 
"Our expectation is she's going to demand as much respect on the floor as Melissa Dixon did in her senior season when she was the best 3-point shooter in the nation," said Bluder. "She is playing with a lightness and joy you need to be successful. I know it's only her sophomore year, but I think she has a great future ahead of her."
 
Iowa hosts Minnesota State-Moorhead in an exhibition Sunday at 7 p.m. (CT) on Mediacom Court inside Carver-Hawkeye Arena. The Hawkeyes open the regular season Nov. 10, hosting Quinnipiac in the 2017 Hawkeye Challenge.