Hawkeye Fan Shop — A Black & Gold Store | 24 Hawkeyes to Watch 2017-18 | Hawk Talk Monthly — November 2017
By JACK ROSSI
hawkeyesports.com
IOWA CITY, Iowa — The University of Iowa cross country program's second race of the postseason will give the Hawkeyes another shot at breaking its elusive NCAA Championship drought.
 
The 2017 NCAA Midwest Regional is the next chance for Iowa to qualify for the NCAA Championships in Louisville, Kentucky — something the women haven't done since 2012 and the men since 2011.
 
"I think we have individuals that can get to that meet," said Iowa cross country head coach Randy Hasenbank. "They believe in themselves and you'll see some athletes out there trying to make that happen. Jeff Thode was the last guy in 2011 and Mareike Schrulle did it in 2012 and she went on to finish seventh. It has been a long enough drought."
 
The 2017 NCAA Midwest Regional begins Friday in Ames, Iowa, a roughly two-hour drive from Iowa City and probably the next closest place after last year's competition was held at the Ashton Cross Country course.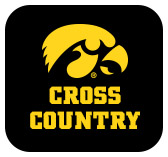 "I suppose there is a small advantage to the travel," Hasenbank said. "The travel is not as arduous and I always like that and a lot of our kids are from this region and know this course. That is a little bit of an advantage, but it comes down to going out with a competitive mindset."
 
With two automatic team bids at each regional, the rest are team at-large bids. Four individual spots automatically qualify, leaving the rest to qualify on place. For individuals not selected with a team, four student-athletes per region will be selected as long as the individual has placed in the top 25 of their region and then a final two individuals will be selected after that.
 
"We have athletes that can get into the national meet," Hasenbank said. "They have to be confident and execute."
 
After seeing dramatic individual improvement at the Big Ten Championships on Oct. 29, the next step in the process is seeing improvement on the team scores.
 
"The individual performances were great to see, but we need that to translate the team score and we need to beat teams," Hasenbank said. "The goal this week is compete well in the region. I'd love to see the guys battle for a top-five spot on the men's side and a top-10 spot on the women's spot.
 
"The recent rankings are out and they are a fair assessment of where each squad stands. We will have to outperform the rankings on both sides to reach our goals."
 
The 2017 NCAA Midwest Regional is Friday with the women's 6,000-meters set to begin at 10:45 a.m. (CT) and the men's 10,000-meters to follow at 11:45 a.m. Live results are available on the cross country schedule page on hawkeyesports.com.