Hawkeye Fan Shop — A Black & Gold Store | 24 Hawkeyes to Watch 2017-18 | Hawk Talk Monthly — November 2017 | 2017 Football Tickets
By JACK ROSSI
hawkeyesports.com
 
IOWA CITY, Iowa — For University of Iowa football student-athletes, the grind of the football season can be a tedious and draining endeavor, and that is where graduate assistant Don Shumpert steps in to help.
 
Shumpert was a three-year letterman for the Hawkeyes as a wide receiver, concluding his career in 2013 – his best season as a Hawkeye. After graduation, Shumpert returned to his old high school to coach.
 
"In 2015, I received my first coaching job at my alma-mater at Hazelwood East High School coaching wide receivers," Shumpert said.
 
But it wasn't long until Shumpert received another coaching offer, this time from Kirk Ferentz.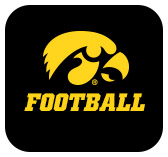 "Shortly after, coach Ferentz granted me the opportunity last season to come back and assist with the offense and special teams," Shumpert said, "What really brought me back was making an impact on guys and building relationships. The coaches here made a big impact on my life and I wish to do the same for future players."
 
After working his way up the depth chart over the course of his collegiate career, Shumpert knows the grind and it has turned into one of his biggest assets for the younger players.
 
"Now that I am back on staff I try to be a mentor to the players and have them understand that this is a long process and a long journey so you have to embrace the grind every day," Shumpert said. "I've been in their shoes before and I know what they are experiencing right now. It's easy for me to talk and relate to the guys."
 
Shumpert's responsibilities are with the wide receivers and special teams, assisting coaches Kelton Copeland and LeVar Woods. These roles carry over into game days where Shumpert plays a vital role in operations.
 
"On special teams, I make sure there are enough guys in the huddle and line up the returners," Shumpert said. "As far as wide receivers, I communicate with them and let them know what I see on the field."
 
Shumpert hopes his career path leads him to coach wide receivers at the Division I level and maybe even become an offensive coordinator, but for now Shumpert is taking in all the lessons he can from the resources around him.
 
"Coach Copeland is a good coach, good motivator, and people really respect him," Shumpert said. "What I've realized with coaching is that you have to make sure that guys trust what you are saying. When they start trusting you, they start believing in you. Coach Copeland does a great job of that and I am fortunate to learn from him."
 
While his playing days are behind him, Shumpert knows the grind continues every day off the field.
 
"Whatever you put your mind to you'll be able to do it in the future," Shumpert said. "Whenever you are doing something demanding or challenging, there will be ups and downs, but you just have to keep pushing through."
 
No. 20 Iowa faces off against No. 8 Wisconsin for the Heartland Trophy on Saturday at 2:36 p.m. (CT). Live stats and radio stream are available on hawkeyesports.com.