Hawkeye Fan Shop — A Black & Gold Store | 2017 Football Season Tickets | Kinnick Edge | Fight For Iowa | Hawk Talk Monthly — November 2017 | Freshman Spotlight: Geno Stone | Freshman Spotlight: Ihmir Smith-Marsette | Freshman Spotlight: Ivory Kelly-Martin | Freshman Spotlight: Matt Hankins | Freshman Spotlight: A.J. Epenesa | Freshman Spotlight: Tristan Wirfs | Freshman Spotlight: Noah Clayberg | Freshman Spotlight: Ryan Gersonde | Freshman Spotlight: Max Cooper
Editor's Note: The following first appeared in the University of Iowa's Hawk Talk Daily, an e-newsletter that offers a daily look at the Iowa Hawkeyes, delivered free each morning to thousands of fans of the Hawkeyes worldwide. To receive daily news from the Iowa Hawkeyes, sign up HERE.
By DARREN MILLER
hawkeyesports.com
 
IOWA CITY, Iowa — Brandon Smith's mother ran track for Ole' Miss, his father ran track for Mississippi State, and his sister is a thrower for Mississippi State.
 
It seems out of sorts that Brandon, a high school state high jump champion, departed from the family pedigree for sport and college when the football wide receiver signed with the University of Iowa.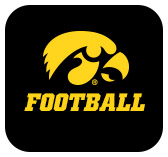 "I liked the coaching staff, everybody was helplful and it felt like family here," Smith said. "I felt I could fit in."
 
Smith is one of three true freshman wide receivers to play this season, joining Max Cooper and Ihmir Smith-Marsette. At 6-foot-3, 205 pounds, Smith is the biggest, most physical Hawkeye receiver.
 
"For us, he has unusual size," Iowa head coach Kirk Ferentz said. "He is a good-sized guy and has a good attiutude. He uses his size pretty well; like all the freshmen receivers, he's not there yet, but he has the potential we're looking to work with."
 
Smith set records at Lake Cormorant (Mississippi) High School with 206 receptions, 3,672 yards, and 41 touchdowns. He was recruited to Iowa by Kelvin Bell, who is a native of Olive Branch, Mississippi, a town 24 miles east of Lake Cormorant. Through his network of coaching connections, Bell heard of a player the Hawkeyes might be interested in. He investigated and liked what he saw.
 
Smith, who was accompanied by his parents, Tyjauna and Roy, attended one of Iowa's summer camps. The family stayed a few extra days in Iowa City.
 
"We got a chance to know them a little bit," Ferentz said. "We were not only impressed with Brandon, but his mom and dad, too. You feel better in recruiting after you get the full picture. After that, it was certain to us he was a guy we wanted to get in our program and things worked out."
 
So far this season, Smith has three catches for 15 yards as the backup split end behind senior Matt VandeBerg. VandeBerg took Smith under his wing from the time the two roomed together in fall camp.
 
"The hardest transition is understanding that college isn't high school," VandeBerg said. "I was able to help bring him along in camp; you talk about routine and habits you need to get into because it is a lot more demanding at this level."
 
Quarterback Nate Stanley is in his first season as Iowa's starting quarterback. He has connected with Smith in games against North Texas, Michigan State, and Northwestern.
 
"He continues to come to practice every day and work hard," Stanley said. "He has continued to get better at his routes. He is a big, physcial guy, so we try to get him to realize that and use it to his ability."
 
Smith is spending a large chunk of his first season with the Hawkeyes studying — and simplifying — the offensive playbook. His goals are equally simple:
 
"I want to keep improving, that's it," Smith said.
 
No. 25 Iowa (6-3 overall, 3-3 Big Ten) hits the road for No. 6 Wisconsin (9-0, 6-0) on Nov. 11 with the traveling Heartland Trophy at stake.