Hawkeye Fan Shop — A Black & Gold Store | 24 Hawkeyes to Watch – 2017-18 | Fight For Iowa | Hawk Talk Monthly — November 2017
SALUTING OUR VETERANS: FRED BECKER
Nov. 6, 1895 — July 18, 1918
IOWA CITY, Iowa — Fred Becker was born in Waterloo, Iowa, and played just one season of football at the University of Iowa. He earned the school's first All-America honor in 1916.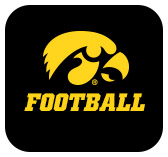 When the first call for volunteers for World War I went out, Becker was one of the first Americans to raise his hand. He cut his college career short to fight for our country. He quickly moved through training and was one of the first men to be sent overseas for duty. Shortly after arriving in France, he was transferred to the Marines.
 
The quote below was taken from a letter he wrote his parents on June 23, 1918, when he was injured and eager to get back on the battlefield.
 
"Everyone wants to get into action, and all feel slighted when they're not engaged in combat when there is important work to be done."
 
Within a month of the letter, Becker was back out on the battlefields of Europe. He died on July 18, 1918, and shortly before he was killed, Becker took out a German machine gun nest. He was credited by the Marines with saving the lives of the men he commanded.
 
For his courage and bravery in battle, Becker earned the following awards: Distinguished Service Cross (Second highest award in the United States Army), Silver Star Citation (Third highest military decoration for valor in the United States Armed Forces), and Croix de Guerre (French military decoration referenced in Nile Kinnick's Heisman acceptance speech).