Hawkeye Fan Shop — A Black & Gold Store | 2017 Football Season Tickets | Kinnick Edge | Fight For Iowa | Purdue Tickets
Editor's Note: The following first appeared in the University of Iowa's Hawk Talk Daily, an e-newsletter that offers a daily look at the Iowa Hawkeyes, delivered free each morning to thousands of fans of the Hawkeyes worldwide. To receive daily news from the Iowa Hawkeyes, sign up HERE.
By DARREN MILLER
hawkeyesports.com
 
IOWA CITY, Iowa — You need to be tested to lead the nation in passes defended and Iowa's Joshua Jackson welcomes the challenge.
But after intercepting five passes the last two games, you would think Purdue quarterback Elijah Sindelar would look opposite of Jackson when the teams meet Nov. 18 in Kinnick Stadium.  
 
Jackson, a 6-foot-1, 192-pound junior cornerback from Corinth, Texas, is tops in the Big Ten and NCAA with 23 passes defended through 10 games. His eyes light up when opposing quarterbacks look to his side of the field.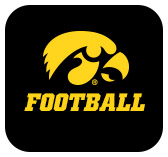 Against Wisconsin on Saturday, he intercepted two passes, returning the first 43 yards for a touchdown to give Iowa a 7-0 lead and returning the second 52 yards to reduce the Badger advantage to 17-14
 
"I'm just trying to do my job," Jackson said. "If it comes my way, I want to be able to do my job, play good defense, and knock the ball down or get interceptions to help put the offense in the best field position I can."
 
On Saturday, he also forced Wisconsin running back Jonathan Taylor to fumble in the second quarter; the ball was recovered by teammate Manny Rugamba.
 
So far this season, when opportunity knocks, Jackson has knocked it away — the ball that is.
 
Jackson played receiver and defensive back as a senior at Lake Dallas High School, graduating in 2014. He came into the Hawkeye program as a defensive back, but switched to receiver during spring drills in 2015.
 
"They were short on their depth chart and needed more receivers for scout team," Jackson said. "I was doing well with the scout team so they wanted to try me at receiver for the spring. It was OK, but I didn't like receiver that much."
 
So Jackson and Iowa head coach Kirk Ferentz agreed that a return to defense was in the team's best interest. As a freshman in 2015, Jackson saw action in all 14 games, recording eight tackles and two pass break-ups. Last season he played in 12 games with 10 tackles and four pass break-ups. His first career start came in the Outback Bowl against Florida where he made three solo tackles.
 
"That light bulb kind of started coming on a little bit back in 2015," Ferentz said. "You saw him competing as a nickel back and his whole demeanor has grown since then."
 
During the 2015 and 2016 seasons, Jackson relished a backup role behind Hawkeye cornerbacks Desmond King and Greg Mabin. King now plays for the Los Angeles Chargers and Mabin was recently signed by the San Francisco 49ers.
 
"It has been a slow build from camp, you're a new guy coming in and every day you have to prove yourself," Jackson said. "Every day you have to come out with a good attitude and come to work expecting to make plays. It has been gradual and you have to earn it."
 
Jackson spent the previous three seasons "proving himself" and "earning it" by watching and learning from veterans like King, Mabin, Jordan Lomax, and John Lowdermilk. So far this season, he is sixth on the team with 39 tackles. He leads the team in pass break-ups (16) and interceptions (seven).
 
In August, Ferentz called Jackson one of the most improved players on the Hawkeye roster. He excelled in offseason workouts and matured from a preparation standpoint.
 
"The preparation part — going to the film room and bringing it to the field is the main thing," Jackson said. "The first couple years you don't know how to prepare well. It is more about learning and adding things to your toolbox as you go."
 
Jackson's toolbox includes a fresh compliment: On Oct. 30 he was named a semifinalist for the 2017 Bednarik Award honoring the nation's best defensive player. That's high praise for someone with nine career starts. In fact, Jackson feels improvement after every game-day Saturday.
 
"I am able to get better at the position and gain more knowledge, wisdom, and comfort," he said. "The more reps you get, the more comfortable you get. It's about utilizing those reps and growing every day to be the best I can be."