Hawkeye Fan Shop — A Black & Gold Store | 24 Hawkeyes to Watch – 2017-18 | Fight For Iowa
By DARREN MILLER
hawkeyesports.com
IOWA CITY, Iowa — The game film has been examined, lessons have been learned, and it's time for the University of Iowa football team to look ahead to Purdue.
 
The game film, of course, is from the Hawkeyes' 38-14 loss at Wisconsin on Nov. 11 in a game where two Josh Jackson Pick Six's kept the deficit 17-14 midway through the third quarter.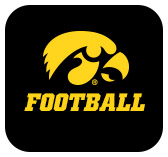 "The defensive turnovers gave us a chance to stay in the ball game, we weren't getting anything going offensively," Iowa head coach Kirk Ferentz said Sunday during an interview with hawkeyesports.com.
 
Wisconsin benefited from a 21-yard fumble recovery for a score to go ahead, 24-14 and start a streak of 21 unanswered points.
 
"We still had an opportunity to get something going and get back into the game and we turned the ball over and that pretty much moved it to a tough place for us," Ferentz said. "There wasn't much that Wisconsin did that we hadn't seen or been prepared for. They played at a higher level; it seemed like they were playing about as good as they can play and we were at the other end of the thing."
 
On Nov. 4, the Hawkeyes scored 55 points and rolled to 487 yards of offense. Against Wisconsin, it was 14 points and 66 yards.
 
"A week earlier we executed with the kind of precision you need to execute with if you are going to be productive," Ferentz said. "As a result of that, we did have good productivity. That had been something that had been hindering us in some earlier games."
 
ON WISCONSIN
"We played Wisconsin, which is a really good football team and from my vantage point, that is the best they have played. They were ready to go, their crowd was into it and they played well."
 
LITTLE THINGS NOT ADDING UP
"Yesterday we went back to that mode where nothing really seemed to work, whether it was cadence issues, dropped balls, not blocking quite well enough, not hitting the hole quite fast enough or being patient enough. A lot of those little things added up and it was a tough day for us offensively."
 
SENIOR DAY
"It was a tough loss (Nov. 11) at Wisconsin and we're not happy about that. We have gone through the film and looked at it, hopefully learn from it. What we need to do now is move on and turn our focus to being back in Kinnick — it is our seniors' last day out there and that is really significant. It is a special day for those guys — they have had tremendous careers here and they still have an opportunity as a group to finish up here with nine wins, but it's not going to come easy."
 
ABOUT PURDUE
"This game won't come easy, Purdue is a much-improved team. They are playing with great vigor right now and basically have been close every game they have had, win or lose. They are playing competitively.
 
"The focus is on us and what we do to improve our execution, be a little better in all three phases, and give ourselves a chance to win this game."
 
MORE ABOUT THE BOILERMAKERS
Purdue (4-6 overall, 2-5 Big Ten) is coming off a 23-13 loss at Northwestern on Nov. 11. The Boilermakers won the yardage battle 438-390 behind 376 passing yards from quarterback Elijah Sindelar. Jared Sparks caught 11 passes for 130 yards.
 
Iowa is 6-4, 3-4.
 
Saturday's game kicks off at 2:30 p.m. (CT) and it will be televised by BTN.