Hawkeye Fan Shop — A Black & Gold Store | 24 Hawkeyes to Watch 2017-18 | Hawk Talk Monthly — November 2017 | Lisa Bluder News Conference
By DARREN MILLER
hawkeyesports.com
IOWA CITY, Iowa — One of the first things head coach Lisa Bluder will point out to her University of Iowa women's basketball team Monday are the scoring totals of its next opponent, Northern Illinois.
 
The Huskies, who like Iowa are undefeated, scored 96 points in their exhibition opener and won by a whopping 68 points over Benedictine University. On Nov. 10 they poured in 93 points during a victory over Eastern Illinois.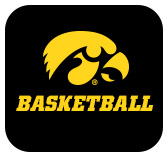 "Hopefully (our players) will understand that this team can score," Bluder said Monday at a news conference in Carver-Hawkeye Arena.
 
Bluder will also remind them that at least one consistent starter is "very, very, very questionable" to play Wednesday. Sophomore guard Kathleen Doyle, who has started 31 of 36 games in her career, is recovering from an ankle injury suffered Saturday during a 104-97 overtime win against Western Kentucky.
 
"Possibly not having Kathleen will also give us a focus, because any time you're changing your parts like that, or you are missing a part, then it brings everybody's focus," Bluder said.
 
The Hawkeyes had plenty of focus — and grit — over the weekend when they emerged as champions of a loaded Hawkeye Challenge. Iowa defeated Quinnipiac, 83-67, on Nov. 10 and bounced back to down Western Kentucky on Saturday. Last season, Quinnipiac was 29-7 and Western Kentucky was 27-7.
 
"A lot of people are 2-0, but not playing against the competition we played," Bluder said. "We beat two very good basketball teams in Quinnipiac and Western Kentucky. I feel good about the way we started the season; there were a lot of good points throughout both those games. We're ready to move on to Northern Illinois this week."
 
Iowa's Megan Gustafson was named tournament MVP after averaging 25.5 points and 16 rebounds in the two victories. The junior center shot 67.7 percent from the field and 90 percent from the free throw line.
 
"We knew that whoever we faced would be great," Gustafson said.  "Both games were close until the end, especially that nail-biter with Western Kentucky. We showed a lot of grit to be able to pull out those wins."
 
For at least the near future, it appears the Hawkeyes will need to pull its already thin roster together a little tighter with five games scheduled in the next 10 days. Doyle scored 17 points with nine rebounds in 31 minutes in the season opener and had 15 points, seven rebounds, and seven assists in 30 minutes before leaving the game against Western Kentucky.
 
Bluder praised Doyle for her ball-handling, passing, and leadership and knows her absence will be felt.
 
The Hawkeyes experienced a similar situation last season when Tania Davis went down with a knee injury Feb. 5, 2017, at Michigan. Iowa went 6-5 the rest of the way.
 
"The good news about this one is we know we're going to get Kathleen back," Bluder said. "It's just at what point will we get her back? That's the silver lining. It gives other people great experience and will make us stronger in the long run."
 
Wednesday's nonconference game will tip off at 7 p.m. (CT). Last season Northern Illinois finished 21-12 overall, 12-6 in the Mid-American Conference.