Hawkeye Fan Shop — A Black & Gold Store | 24 Hawkeyes to Watch 2017-18 | Hawk Talk Monthly — November
By JACK ROSSI  
hawkeyesports.com
 
IOWA CITY, Iowa — Martin Hopkins arrived at Iowa in 2009 with the intention to play football. He didn't think a disheartening situation would allow him to remain with the sport for so long.
 
The Illinois native committed to Iowa to play defensive line, but after two seasons, Hopkins had to leave the team in 2010 because of injuries.
 
"I was fortunate enough to have the opportunity to play for coach Kirk Ferentz," Hopkins said. "But medically, it didn't work out."
 
Ferentz didn't give up on his former player and offered him a role on the coaching staff.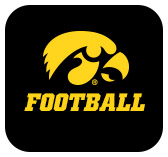 "Coach Ferentz offered me the opportunity to work with the graduate assistants at the time, so that is how I got into coaching," Hopkins said. "I was fortunate for everything to work out that way."
 
As a student assistant, Hopkins worked with tight ends, offensive line, and special teams before transitioning to a graduate assistant in 2015.
 
"I had done a little of everything when I was a student," Hopkins said. "As a graduate assistant, I have worked with the linebackers and the punt team with coach Seth Wallace."
 
Working under Wallace is reassuring for Hopkins since Wallace was also a graduate assistant at Iowa from 2006-08.
 
But at first, it was a strange transition.
 
"It was something different, especially when I first started," Hopkins said. "A lot of the guys I played with were still on the team, so it was different in that regard. The unique thing is once I arrived on the coaching staff, I saw that there is a lot more work behind the scenes than you realize as a player.
 
"As a player you are with the coaches at meetings and practice, but behind the scenes all the work that the graduate assistants and coaches put in makes all this possible."
 
The biggest eye-opener for Hopkins was the amount of film study the coaches do on a regular basis in and out of season.
 
"The amount of film study and preparation year-round is incredible," Hopkins said. "We get into winter workouts and spring ball and the coaches are still working on opponent preparation. It's not just 12 weeks and a bowl game; it's a year-round process that the coaches are doing to get better."
 
Hopkins' plan moving forward is to stick with coaching and continue to make an impact in lives of student-athletes.
 
"The biggest thing about coaching is that I have had a lot of great coaches in my life that were mentors for me and I would like to do that for kids in the future," Hopkins said. "Any coaching job would be great, but I love college and being able to work with the kids and help them with the transition from high school to college. It's a hard transition and something I know a little bit about."
 
Iowa hosts Purdue in its final home game of the season Saturday. Kickoff is set for 2:50 p.m. (CT). Tickets are available online at hawkeyesports.com or over the phone at 800-IA-HAWKS.