Hawkeye Fan Shop — A Black & Gold Store | 2017 Football Season Tickets | Kinnick Edge | Fight For Iowa | Hawk Talk Monthly — November 2017 | 24 Hawkeyes to Watch — 2017-18 Season | VIDEO — Jared Clauss
By DARREN MILLER
hawkeyesports.com
 
IOWA CITY, Iowa — Jared Clauss grew up in West Des Moines, Iowa, rooting for the University of Iowa football team. However, the program was in transition when it was time for him to select a college.
 
Clauss eventually signed with head coach Kirk Ferentz's first recruiting class in 1999 and he explains why: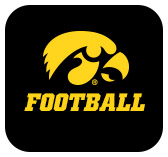 "If I went to another school and I played Iowa and we won, I wouldn't be happy," Clauss said. "I remember thinking about that and I thought that must mean something."
 
Clauss is honorary captain for the Hawkeyes' Senior Day game against Purdue on Nov. 18. He addressed the team and staff Friday in the Stew and LeNore Hansen Football Performance Center.
 
There were other reasons Clauss selected Iowa and it centered on the genuine tone spoken by Ferentz and his staff.
 
"It didn't seem fake," Clauss said. "I bought into the fact they were honest, there were no promises, there was an emphasis on work and culture and it was a fit.
 
"All I wanted to do was meet my defensive line coach (Ron Aiken) and as soon as I met him it was a go. They were honest in the recruiting process and there was an emphasis on work and that's what I wanted to hear."
 
The first two seasons Clauss was with the Hawkeyes, they won four games. During his final two seasons, they won 21.
 
"The improvement (we made from 1999-2003) sticks out," Clauss said. "Four wins in the first two years was tough. But it made it sweeter when you get to the point of winning the Big Ten (in 2002) and being talked about in the national championship discussion. That wasn't an overnight process — it took a ton of work by a lot of guys. I'm thankful we got to experience it. It made those wins sweeter when you weren't stepping into something that was humming on all cylinders."
 
Clauss remembers his Senior Day. It was Nov. 15, 2003, and the Hawkeyes beat up on No. 17 Minnesota, 40-22. Iowa closed the season with a win at Wisconsin and a 20-point victory over Florida in the Outback Bowl.
 
He knows what the current senior class is feeling and he opened Friday's message by thanking the seniors for carrying the torch this season.
 
"I know how hard it is, it's not just 13 games a year," Clauss said. "There is a lot that goes into it; you see a lot of guys go through the program and it's tough. It's thanks to the seniors because I know the effort level they put in and these guys have carried it well."
 
Along with that, he pleaded for the Hawkeyes "to pull into the gas station on fumes."
 
"You can't get it back and there is no second chance, so don't leave anything out there or you will regret it," he said. "I think the senior class has done a good job — the effort has been there."
 
A defensive tackle, Clauss was selected by the Tennessee Titans in the seventh round of the 2004 NFL Draft. He played two seasons and made 25 tackles in 29 games.
 
Clauss met his wife, Becky, at the University of Iowa. They reside in Des Moines with a daughter, Peyton (nearly 4 years old) and son Cade (newborn).
Iowa (6-4 overall, 3-4 Big Ten) and Purdue (4-6, 2-5) kick off Saturday at 2:40 p.m. (CT) inside Kinnick Stadium. Tickets are available and may be purchased by clicking HERE.