Hawkeye Fan Shop — A Black & Gold Store | Kinnick Edge
Editor's Note: The following first appeared in the University of Iowa's Hawk Talk Daily, an e-newsletter that offers a daily look at the Iowa Hawkeyes, delivered free each morning to thousands of fans of the Hawkeyes worldwide. To receive daily news from the Iowa Hawkeyes, sign up HERE.
By DARREN MILLER
hawkeyesports.com
 
IOWA CITY, Iowa — The final seconds had ticked off the clock at Kinnick Stadium on Saturday and team captain and linebacker extraordinaire Josey Jewell made certain all his Hawkeye teammates were in place and accounted for before swarming off the field for a final time in 2017.
 
Five times this season, Iowa players jogged arm-in-arm toward the locker room after a victory. On Senior Day, they jogged off following a 24-15 loss to Purdue.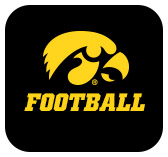 "You win as a team, you lose as a team and certainly tonight that is the case," Iowa head coach Kirk Ferentz said. "We lost as a football team."
 
The Hawkeyes fell to 6-5 overall, 3-5 in the Big Ten and face a short turnaround before they play at Nebraska on Friday. Iowa's Senior Day has ended, but guidance from the team's senior class will be paramount in the next six days.
 
"We can still finish the season strong with two wins," Jewell said. "We're a roller coaster right now and we need to sustain success and be able to keep doing it. It's all about execution."
 
Iowa will use the short week in search of a higher level of consistency. Against Purdue, there were dropped balls and missed interceptions. Quarterback Nate Stanley was sacked six times.
 
"It comes down to going out there and doing your job," Jewell said.
 
Jewell, Nathan Bazata, James Butler, Matt VandeBerg, and Akrum Wadley — all seniors — had shining moments on what ended as an overcast farewell.
 
Bazata started the scoring for the Hawkeyes when he sacked Purdue quarterback Elijah Sindelar for a 3-yard loss and a safety early in the second quarter. It ignited a 9-0 run in the second quarter that gave Iowa a two-point halftime lead.
 
"We had to have a spark to get us going," Bazata said. "Now we have to get to work. It's a short week and we have to get back to doing our job — the little things to get on track."
 
Butler finished with 38 rushing yards on seven carries. His 25-yard gain on the final play of the first quarter was the longest of the game for the Hawkeyes.
 
"I wish we would have left our last game in Kinnick with a better feeling," Butler said. "But we can use that energy to drive us into next week."
 
VandeBerg, who extended his consecutive game reception streak to 30, moved the chains in the second quarter with an 18-yard reception on 4th-and-5 from Purdue's 20. The Hawkeyes scored a touchdown on the next play.
 
"We have to learn from this tape and figure out what we didn't do well enough in order to execute well enough to win on a short week," VandeBerg said.
 
Iowa's first touchdown was scored by Wadley, his team-high ninth of the season. He carried the ball six times for 28 yards on the scoring drive and compiled a game-high 78 rushing yards on 22 attempts.
 
"We have two games left and we have to finish strong," Wadley said. "We left one out there (Saturday) and lost."
 
As for Jewell, he added 13 more tackles, three tackles for loss, and two sacks to his attractive resume. He moved to fourth on Iowa's all-time tackle list and it marks his 21st career game with double-digit stops.
 
"The battle is won before it's fought," Jewell said. "You have to work hard during the week if you want to come out this Friday with a victory. The Big Ten is tough."
 
There isn't time for the Hawkeyes to dwell on their most recent setback. The calendar won't allow it. Neither will Iowa's senior class.