Hawkeye Fan Shop — A Black & Gold Store | Kinnick Edge
Editor's Note: The following first appeared in the University of Iowa's Hawk Talk Daily, an e-newsletter that offers a daily look at the Iowa Hawkeyes, delivered free each morning to thousands of fans of the Hawkeyes worldwide. To receive daily news from the Iowa Hawkeyes, sign up HERE.
By RICK BROWN
hawkeyesports.com
 
IOWA CITY, Iowa — Ben Niemann's dad missed his Senior Day on Saturday at Kinnick Stadium.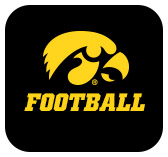 "It was tough," said Niemann, an outside linebacker who made the 38th start of his University of Iowa football career. "I had my mom (Lou Ann) here, and a lot of other family members, which was nice."
 
Jay Niemann, Ben's dad, was 388 miles away in a different Big Ten stadium. He's the defensive coordinator at Rutgers, and the Scarlet Knights played at Indiana on Saturday.
 
"I kind of knew that was going to be the situation going in," Ben said.
 
Things could have been much different. Ben committed to Northern Illinois as a senior at Sycamore (Illinois) High School. Jay Niemann was the Huskies' defensive coordinator. But Ben, a member of the Class of 2014, had a change of heart and signed with the Hawkeyes instead. Jay left Northern Illinois after the 2015 season to join Chris Ash's staff at Rutgers.
 
Saturday was a tough day for the Niemanns. Rutgers lost at Indiana, 41-0, and the final game for 18 Iowa seniors at Kinnick Stadium was a 24-15 loss to Purdue.
 
"It leaves a sour taste in your mouth, having it end that way," Ben said. "It's frustrating."
 
When Ben got to the locker room after the game, he had a text message waiting for him from his dad.
 
"He just offered encouragement, and said he was sorry for the loss," Ben said.
 
Ben and his dad visited on the phone later Saturday, to review a tough day in their football lives. Those long-distance conversations have taken place often during the course of Niemann's Iowa career, after good times and bad.
 
"Just father-son stuff," Ben said. "Life, whatever's going on. He'll check in with me about football, because it's a big part of my life and his as well. He and I are close, and I still communicate with him a lot."
 
It's tough having your dad miles away when you play, but Jay has seen Ben play in person during his Hawkeye career.
 
"He has made sacrifices, when he can, to get to my games," Ben said.
 
Jay was able to make Iowa's game with Illinois at Kinnick Stadium on Oct. 7. Rutgers had a bye week. Last season, after Rutgers hosted Indiana in a noon kickoff, Jay drove to State College, Pennsylvania, to watch his son play at Penn State that night.
 
The sour taste from Saturday's loss will eventually go away, and Niemann leaves Kinnick Stadium with an overflowing memory bank. A 14-13 victory over No. 2 Michigan last season and a 55-24 pounding of No. 3 Ohio State this season will always be special.
 
 "A lot of great games have been played here, and a lot of great wins and great celebrations with my teammates," Ben said. "Bonds were created on that field that are going to last way beyond football. There's a lot of good stuff to look back on."
 
And even though Ben will be gone when Iowa opens the 2018 season Sept. 1 against Northern Illinois at Kinnick Stadium, there will still be a Niemann in uniform. His younger brother, Nick, has been under Ben's wing the past two seasons. He's a redshirt freshman linebacker.
 
"It has been nice to have him with me every step of the way," Ben said. "I'm trying to pass the torch and help him become the best player he can be."
 
But before turning the page on 2017, Ben Niemann has two games remaining in a Hawkeye uniform. There's a Black Friday game at Nebraska and a bowl game still to be played.
 
"We want to win the last two," Ben said. "That's our goal. We're going to do everything we can do to win."