Hawkeye Fan Shop — A Black & Gold Store | Kinnick Edge | Bazata Preps for #Wedding18
Editor's Note: The following first appeared in the University of Iowa's Hawk Talk Daily, an e-newsletter that offers a daily look at the Iowa Hawkeyes, delivered free each morning to thousands of fans of the Hawkeyes worldwide. To receive daily news from the Iowa Hawkeyes, sign up HERE.
By DARREN MILLER
hawkeyesports.com
 
IOWA CITY, Iowa — It's hard to believe that Friday will be just another game for University of Iowa defensive tackle Nathan Bazata.
 
The 6-foot-2, 287-pound Bazata enjoyed a sensational career playing eight-man football for Howells-Dodge High School in Nebraska. He was raised among a family of Cornhusker fans and his fiancé attends the University of Nebraska-Lincoln.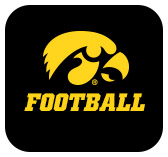 But Bazata sticks to the notion that it will be just another game when the Hawkeyes (6-5 overall, 3-5 Big Ten) play Nebraska (4-7, 3-5) on Nov. 24 inside Memorial Stadium. It will be the final regular season game in Bazata's collegiate career.
 
"It was an easy choice coming to Iowa," Bazata said. "A lot of my cousins disagreed with me, but I love it here and it has been amazing."
 
Not to mention Iowa has won three of the last four meetings in the series for the Hy-Vee Heroes Game trophy. The Hawkeyes emerged victorious, 28-20, on their most recent trip to Lincoln on Nov. 27, 2015, capping a 12-0 regular season to advance to the Big Ten Championship.
 
"There have been a lot of great times and I'm going to miss it a lot," Bazata said. "Going back to the last (regular) season game of my sophomore year when we beat Nebraska in their place; for me, that was a good feeling in the locker room, going 12-0 and being part of that team was sweet."
 
As Bazata's career winds down, he thinks back to a recruiting visit he made to Iowa City five years earlier. Bazata and his father, Dan, walked past the old "Bubble" indoor practice facility that was attached to the Jacobson Athletic Building. Iowa head coach Kirk Ferentz met them in the parking lot and struck up a conversation like they were old pals.
 
"He knew our names, knew who my mom was, my brothers and sisters," Bazata said. "I was in awe about that. I couldn't believe he put in that much effort to know all my siblings and my mom who wasn't there. It was awesome."
 
At the time, Bazata had a connection to the Hawkeye football program. In high school he was aware of a Nebraska eight-player defensive end named Drew Ott, who lettered for Iowa from 2013-15. Once Bazata stepped on campus, Ott and fellow defensive lineman Louis Trinca-Pasat took him under their wings.
 
"Drew was mentoring me the whole way," Bazata said. "He told me about how much greater the competition is here (than high school). Then I had Louis guiding me along the way, too. I am very thankful for those two."
 
During high school football, Bazata was the big guy, at Iowa he was a small guy. It took hard work and attention to proper technique to get to where he is today. He has started 35 games in his career with 13 consecutive starts. In 11 games this season, Bazata has 39 tackles, 5 ½ tackles for loss, and three sacks. He was named honorable mention All-Big Ten in 2016 and he is a three-time Academic All-Big Ten selection.
 
While Nov. 24 might be another day in Bazata's life, the same isn't true for March 10, 2018. That's when Bazata will marry his high school sweetheart, Emily Brichacek, The future bride and groom will both receive undergraduate degrees in December: Bazata from the University of Iowa, Brichacek from the University of Nebraska-Lincoln.
 
Everything seems to add up to an emotional football finale in Memorial Stadium. For most people maybe, but not Bazata.
 
"For me, it's another game," he said.