Hawkeye Fan Shop — A Black & Gold Store | Kinnick Edge | Freshman Spotlight: Geno Stone | Freshman Spotlight: Matt Hankins
Editor's Note: The following first appeared in the University of Iowa's Hawk Talk Daily, an e-newsletter that offers a daily look at the Iowa Hawkeyes, delivered free each morning to thousands of fans of the Hawkeyes worldwide. To receive daily news from the Iowa Hawkeyes, sign up HERE.
By DARREN MILLER
hawkeyesports.com
 
LINCOLN, Neb. — The day was destined to arrive, maybe in 2018, probably 2019, surprisingly in Game 12 of their first season of collegiate football.
 
There they were — Matt Hankins and Geno Stone — on Black Friday, 2017. Two University of Iowa rookie defensive backs, who a year ago — if they were watching the Hy-Vee Heroes Game at all — did so on couches in Lewisville, Texas, and New Castle, Pennsylvania.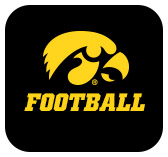 On Friday, both saw significant time during the Hawkeyes' 56-14 dismantling of Nebraska. The Cornhuskers entered the game featuring pass-happy quarterback Tanner Lee, who had thrown for 2,938 yards and 21 touchdowns. Last week at Penn State, Lee passed for 399 yards and three touchdowns. The top four Cornhusker receivers had at least 30 receptions apiece and a combined18 touchdowns.
 
Yes, 200 of Nebraska's 267 total yards Friday came through the air. Yes, receiver Stanley Morgan, Jr., caught seven passes for 74 yards and two touchdowns. But…Iowa's defense held the Cornhuskers to 4.8 yards per pass attempt and 8.7 yards per completion. Hankins and Stone were a big reason why.
 
Let's start with Hankins, from Lewisville, Texas, who earned his first career start at right cornerback.
 
"I was thankful for the opportunity that coach gave me," Hankins said from a victorious locker room in Memorial Stadium. "I have been putting work in during practice and coach thought I could get the job done."
 
The 6-foot-1, 175-pound Hankins finished his first start with five tackles and a pass breakup. He entered the final regular-season contest with nine tackles in 10 games.
 
"It helps build my confidence," Hankins said. "I wanted to work on technique, understand my keys and assignments, and let the rest take care of itself."
 
Like Hankins, the 6-foot, 195-pound Stone has exceled on special teams. When senior safety Miles Taylor went down with an injury late in the first quarter, Stone got the call.
 
"The past two weeks we were short on safeties, so I knew I would have to step up soon," Stone said. "Whenever I got in, I wanted to fill that role perfectly and make sure I did my technique correctly and had the proper calls."
 
And…
 
"I wanted to fly to the ball."
 
Stone did just that, sharing game-high tackle honors with eight. In his first nine games, he had nine tackles.
 
"I knew they had good receivers, but I wanted to go out there, play, and make sure they didn't catch the ball," Stone said. "If they did catch it, I wanted to make sure I brought them down as soon as they caught it."
 
Even before Stone came into Friday's game, he knew Iowa's secondary was capable of containing the Cornhuskers. Individually, he recognizes his improvement since camp opened in July and he continues to gain confidence.
 
In a postgame news conference, head coach Kirk Ferentz praised the newbies in the Hawkeye secondary.
 
"We think they have a chance to be good football players if they keep pushing it," he said.
 
Stone originally committed to Kent State to remain close to his mother in New Castle, Pennsylvania. Ferentz flashed back to that recruitment, moments after Iowa's third consecutive victory in the Heroes Game.
 
"(His mother, Erin) and his high school coach threw him in a car and made him come out here," Ferentz said. "You know Pittsburghers, you have to watch these guys. I was teasing him that I'm glad he is here and not Kent State and I think he feels the same way."
 
Meanwhile, Stone sent flattery toward Hankins: great kid, special, lanky, fast, great cover corner. The duo will enjoy many more snaps together in Iowa's secondary.
 
"I never knew it would happen this fast, but it's great to be out there with him," Stone said.