Hawkeye Fan Shop — A Black & Gold Store | 24 Hawkeyes to Watch 2017-18 | 24 Hawkeyes to Watch: Megan Gustafson
Editor's Note: The following first appeared in the University of Iowa's Hawk Talk Daily, an e-newsletter that offers a daily look at the Iowa Hawkeyes, delivered free each morning to thousands of fans of the Hawkeyes worldwide. To receive daily news from the Iowa Hawkeyes, sign up HERE.
By DARREN MILLER
hawkeyesports.com
IOWA CITY, Iowa — Two-hundred 50 days and counting.
 
That's how long it has been since University of Iowa junior center Megan Gustafson played a women's basketball game and finished without a double-double in points and rebounds. The "off-day" was March 23, 2017, when the Hawkeyes walloped Colorado, 80-62, in the third round of the WNIT inside Carver-Hawkeye Arena. In 25 minutes, Gustafson scored 12 points and pulled down a team-high eight rebounds.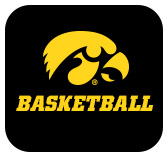 "That was a while ago," Gustafson said with a laugh.
 
In eight games since — including a WNIT fourth-round loss to Washington State — Gustafson has averaged 21 points and 13.6 rebounds a game…with a double-double in every outing (she has 34 career double-doubles). On Nov. 27, for the third consecutive week, Gustafson was honored by the Big Ten Conference as either its Player of the Week or a member of the weekly honor roll.
 
"I see it more as a team honor," Gustafson said. "My teammates do a great job setting me up every game and every week. I'm able to depend on them, too. It is a two-way street and I'm proud to be on this team."
 
Iowa (7-0 overall) went 3-0 at the Puerto Rico Challenge from Nov. 22-25 in Fort Lauderdale, Florida. Gustafson averaged 20.3 points and 12.7 rebounds in the Sunshine State, shooting 67.4 percent from the field. In the finale against Elon — a 74-61 win by Iowa — Gustafson scored 20 points with 14 rebounds (nine offensive).
 
"Megan continues to put up amazing numbers and play so well," Iowa head coach Lisa Bluder said. "She has been nothing short of amazing all year."
 
The stakes are higher Wednesday in the Big Ten/ACC Challenge. The Hawkeyes host No. 13 Florida State (6-0) — the fourth team Iowa has faced this season that played in the 2017 NCAA Tournament. The others are Quinnipiac, Western Kentucky, and Elon.
 
"It is exciting to have (Florida State) on our home court," Gustafson said. "We're going to have the mentality of treating it like an NCAA Tournament game."
 
Fans should keep an eye on rebounding totals. While Gustafson is third in the nation with 13.4 rebounds per game (she is 11th in the NCAA with 5.1 offensive rebounds per game), Florida State leads the nation at plus-21.7 in rebounding margin; the Seminoles grab 17 offensive rebounds a game.
 
Gustafson's prowess on the glass could be her most admirable trait. Her rebounding mentality is simple: defensive rebound means Iowa's offense gets the ball; offensive rebound prolongs a Hawkeye scoring opportunity.
 
But there is more to Gustafson's game than rebounding. She is eighth in the country in field goal percentage (68.1 percent) and 27th in points per game (21.3). Gustafson has provided steady production in all 74 career games as a Hawkeye.
 
"Every night, every practice, it doesn't matter," Bluder said. "Road game, home game. She plays the same way all the time.
 
"It's not human nature to go 100 percent effort every single second you're on the floor and she does it. That is what has made her so great — an unbelievable work ethic and a desire to get the job done. She is consistent whether it is shooting, rebounding, running the floor hard, or the manner in which she practices."
 
It will be Black Out/Buck Night on Wednesday in Carver-Hawkeye Arena. Tip-off is 7 p.m. (CT). In a twist, the Hawkeyes will wear black jerseys at home and Florida State will wear white. Admission is $1 for adults and children are free. Fans are encouraged to join the Hawkeye players by wearing black.