24 Hawkeyes to Watch 2016-17 | Fight For Iowa | Hawk Talk Monthly — November 2017
IOWA CITY, Iowa — Adrianna Naumoski will join the University of Iowa soccer program in January, Hawkeye head coach Dave DiIanni announced Tuesday.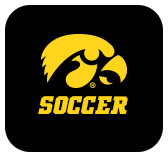 Naumoski will join the program at semester after graduating early from Lake Central High School in St. John, Indiana, where she was a first-team all-state, all-district, all-area, and all-conference selection as a senior.  The forward scored 18 goals and had six assists in helping her team to a 13-4-1 record.
 
"We are excited to welcome Adrianna to the Hawkeye family," said DiIanni. "She comes from a highly-respected club in Eclipse and she has been coached well throughout her development as a soccer player. Her decision to enroll a semester early speaks for her love of the game, work ethic to improve, and eagerness to develop her game."
 
Prior to playing her senior season in Indiana, Naumoski exclusively played club soccer for Eclipse Select in Illinois from 2009-17.  Her team was the USYSA Illinois State Cup champions in 2014 and 2015 and a finalist in 2016. 
 
She also helped the team to the Palatine Celtic Championship from 2014-16 and to ECNL Champions League titles in 2015 and 2016.  Naumoski's team was a Disney Finalist in 2015, a SC Del Sol President's Day finalist in 2016, placed fourth at the USYSA National League in 2013-14, and a seventh-place finisher in the ECNL U16 Final Rankings in 2015-16.
 
Individually, Naumoski was an Olympic Development Program (ODP) Region II Camp invite from 2012-15 and was a part of Indiana's ODP '00 State Team from 2011-15.  She received an ECNL PDP North Invite in February of 2017 and was part of the Top XI at the ECNL PDA in 2015.
 
Academically, Naumoski was an academic honor roll recipient from 2014-17.