Hawkeye Fan Shop — A Black & Gold Store | 24 Hawkeyes to Watch 2017-18 | Hawk Talk Monthly — November 2017 | VIDEO — Players Reaction to Pinstripe Bowl | Photo Gallery
Editor's Note: The following first appeared in the University of Iowa's Hawk Talk Daily, an e-newsletter that offers a daily look at the Iowa Hawkeyes, delivered free each morning to thousands of fans of the Hawkeyes worldwide. To receive daily news from the Iowa Hawkeyes, sign up HERE.
By JACK ROSSI
hawkeyesports.com
IOWA CITY, Iowa — For a fourth straight year and the 15th time in 17 years, the University of Iowa football team will compete in a bowl game.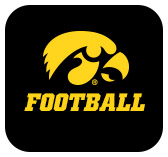 It will be a homecoming for some, a senior sendoff for others, and a chance at history for head coach Kirk Ferentz, but before the bowl was announced, players knew this game would feel a little different.
 
"The challenge is a bit unique," senior guard Sean Welsh said. "During the season, you have a week to work with and now we've got to keep our focus over the month. I know they guys are going to be excited to get to work."
 
Leading up to the announcement, there were a couple different possibilities, including heading to Nashville for the Music City Bowl, which left the players eager to learn their destination.
 
"A lot of guys were wondering," junior defensive back Josh Jackson said. "I was curious about where we were going."
 
When the Hawkeyes were invited to the New Era Pinstripe Bowl in New York, that meant senior running back Akrum Wadley would get to head home.
 
"I thought we were going to be in Nashville," Wadley said. "Then I asked Sean Welsh and he told me that we were going to my neck of the woods."
 
Wadley is from Newark, New Jersey — about 22 miles away from Yankee Stadium. He will get a chance to play his final game in front of friends and family.
 
"I feel like this is a special opportunity," said Wadley.  "Some of my family does not like to fly and they do not want to drive all the way to Iowa to watch me play. I know they will all be at this game."
 
Wadley, with his family in the stands, will hope to lead Iowa to its first bowl win since 2010.
 
"This is the most important thing," Wadley said. "I have not won a bowl game since I have been here. That was one of my goals coming back from last year; winning a bowl game is the most important thing I am thinking about."
 
It's not just Wadley who hasn't won a bowl game. It's every player on Iowa's roster.
 
"No one in the program has won a bowl game and that is something we want to accomplish," said junior defensive end Parker Hesse. "We knew wherever we land that we are going to end the season with a win."
 
A win in the Pinstripe Bowl will not only break a seven-year drought, but it would give Ferentz his 143rd victory at Iowa, tying Hayden Fry as Iowa's winningest coach in program history.
 
The Hawkeyes play Boston College on Dec. 27 in the Yankee Stadium. Kickoff is set for 4:15 p.m. (CT). Tickets for the Pinstripe Bowl