Hawkeye Fan Shop — A Black & Gold Store | Kinnick Edge | Hawk Talk Monthly — Dec. 2017 | Pinstripe Bowl Web Site | Official Bowl Tour site | Pinstripe Bowl Tickets | Photo Gallery
Editor's Note: The following first appeared in the University of Iowa's Hawk Talk Daily, an e-newsletter that offers a daily look at the Iowa Hawkeyes, delivered free each morning to thousands of fans of the Hawkeyes worldwide. To receive daily news from the Iowa Hawkeyes, sign up HERE.
By DARREN MILLER
hawkeyesports.com
 
CHARLOTTE, N.C. — Jim Johnson and Josey Jewell have more in common than the letter J at the beginning of their given and surnames.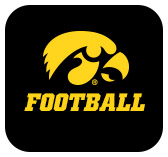 Both played on the defensive side of the football for the University of Iowa: Johnson as a lineman, Jewell as a linebacker. Both were named first-team All-Big Ten Conference: Johnson in 1989 and 1990, Jewell in in 2017. Both were named team captains: Johnson in 1990, Jewell in 2015, 2016, and 2017. Both are native Iowans: Johnson from Forest City, Jewell from Decorah. And both were in attendance at the 2017 Bronko Nagurski Awards Banquet on Monday in the Charlotte Convention Center: Johnson as a guest, Jewell as a finalist for best defensive player in the country.
 
Johnson is a region manager for Electrolux, a sponsor of the Bronko Nagurski Trophy. He covers the Midwest from the Dakotas to Texas, Louisiana, and New Mexico. He has been invited to the banquet before, but Dec. 4 is the first time he attended. Jewell had everything to do with that.
 
"With Josey being a finalist, I made the call to my boss and said, 'Hey, whether I can bring a customer here or not, I'm coming, so make room. I was fortunate to bring a couple customers of mine.'"
 
One of Johnson's clients in attendance was Dean Rockweiler of Decorah. There were several other Iowans among the sold-out crowd of 1,200, most affiliated with Electrolux. The contingent let out a collective sigh when the Bronko Nagurski Trophy was awarded to Bradley Chubb, a defensive end from North Carolina State.
 
There will soon be another connection between Johnson and Jewell: both will play a college football game in the New York-New Jersey area. Johnson was a redshirt freshman in 1987 when the Hawkeyes dropped a 23-22 decision to Tennessee in the Kickoff Classic in Giants Stadium in East Rutherford, New Jersey. Jewell will lead Iowa into the Pinstripe Bowl on Dec. 27 in Yankee Stadium in New York, New York.
 
"We had to report a couple weeks early to camp and we were excited to do that because it was an opportunity to be one of the first college football teams to be on a major stage in a major city," Johnson said. The Kickoff Classic was played Sunday, Aug. 30. "We were able to display our talents — it was a great experience, except we fell short in coming home with a victory."
 
Johnson was a senior at Forest City High School in 1985 when the Hawkeyes finished the regular season 10-1 before losing to UCLA in the Rose Bowl.
 
"I felt very fortunate to be offered a scholarship, because that coaching staff could have gotten any kid it wanted to come to the University of Iowa," Johnson said.
 
Only three other Iowans were in the recruiting class with Johnson: Greg Brown, Greg Fedders, and Jeff Koeppel. Johnson's position coach was Dan McCarney and the Hawkeye staff also included Bob and Mike Stoops, Bill Brashier as defensive coordinator, Bill Snyder as offensive coordinator, Barry Alvarez as linebackers coach (until 1987), and Kirk Ferentz as offensive line coach.
 
"I always remember — maybe it was because I was on the defensive line — our staple with success was that offensive line," Johnson said. "We had guys that were big, athletic, and intelligent and their mantra was just give us the ball. They were so confident they could move that ball at will."
 
Johnson's daily practice goals collided directly with Iowa's physical offensive linemen.
 
"My freshman and sophomore years were tough," Johnson said. "I gladly welcomed my junior and senior years."
 
Johnson and his wife, Shelley, reside in Earlham, Iowa, a town 20 miles west of Des Moines.
 
"It has more livestock than people," Johnson joked.
 
The Johnson's live a block from the school where Shelley teaches. The football field where the Cardinals play is conveniently located behind the Johnsons' house.
 
Johnson's collegiate playing days have passed, but Jewell has the New Era Pinstripe Bowl remaining. The University of Iowa Athletics Ticket Office is accepting online bowl orders at hawkeyesports.com/tickets. Fans may also order tickets by calling 1-800-IAHAWKS Monday – Friday from 9 a.m. to 5 p.m. Priority-point order deadline is Friday, Dec. 8 at 5 p.m.
 
Official bowl travel packages are available atiowasportstours.com. For more information visit: pinstripebowl.com.