Hawkeye Fan Shop — A Black & Gold Store | Kinnick Edge | Hawk Talk Monthly — Dec. 2017 | Pinstripe Bowl Web Site | Official Bowl Tour site | Pinstripe Bowl Tickets | VIDEO | Photo Gallery
Editor's Note: The following first appeared in the University of Iowa's Hawk Talk Daily, an e-newsletter that offers a daily look at the Iowa Hawkeyes, delivered free each morning to thousands of fans of the Hawkeyes worldwide. To receive daily news from the Iowa Hawkeyes, sign up HERE.
"We have a tradition called the Swarm that coach (Hayden) Fry started in 1979, it's how the Hawkeyes take the field and it's all about togetherness. I got there 19 years ago and obviously continued that tradition, but I tell people that as great as that tradition is, at some point that will probably end. The nicest thing about the Kinnick Wave is that it is going to go on forever and it has been so, so special for all of us." — Iowa head football coach Kirk Ferentz
By DARREN MILLER
hawkeyesports.com
 
ATLANTA — The Georgia Aquarium was packed Wednesday with college football stars like Baker Mayfield of Oklahoma, Bryce Love of Stanford, and Josh Jackson of Iowa on the eve of the Home Depot College Football Awards show.
 
Frontrunners for the Bednarik, Biletnikoff, Davey O'Brien, Doak Walker, Jim Thorpe, Lou Groza, Maxwell, Outland, and Ray Guy awards gathered for a Finalists Reception.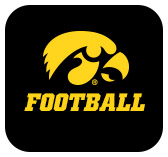 Only one person in the room was summoned up front and given a microphone to speak. His name is Kaden Kelso, a sixth-grader from Berg Middle School in Newton, Iowa. Kelso is in Atlanta as a representative of the Kinnick Wave, a tradition that received the 2017 Disney Sports Spirit Award, given annually to college football's most inspirational player, coach, team or figure.
 
Kelso, who is now cancer-free after surgery for lung cancer, was featured this fall in a segment of The Journey on BTN. He attended the awards show with his stepfather, Howard Noel.
 
"It's amazing I get to accept an award, but the award is not going to me," Kelso said. "I'm representing the people in the hospital who can't be here. I'm lucky enough to be healthy and able to be here. It's awesome being able to accept the award for everybody there."
 
Thanks to a suggestion on social media, the Kinnick Wave has evolved into what many call the greatest new tradition in college football. After the first quarter of every game, fans, officials, coaches, and players turn toward the University of Iowa Stead Family Children's Hospital and wave to children on the 12th floor, aka, the Press Box.
 
"I don't know why, but it was really emotional, it was amazing they would do that," said Kelso, who has been on the receiving end of the wave. "A lot of people up there are Hawkeye fans and it is in Iowa City, so seeing them wave up to you makes you feel better. Some of those kids really do look up to the Hawkeyes."
 
The Kinnick Wave is meaningful to Hawkeye rivals as well. Billy Price won the Rimington Trophy, presented to the nation's most outstanding center. He was recently named Big Ten Conference Offensive Lineman of the Year.
 
"It's special. You reflect back on yourself and how blessed you are," Price said. "I'm lucky enough to strap up for the Scarlet and Gray every Saturday and no matter where you are in life, somebody is always in a situation to make you feel a lot more appreciative for what you have. These young people with cancer continue to battle and it is incredible. It moves you as a man and it moves you as an athlete. A simple wave means so much."
 
Price made a trip to Kinnick Stadium on Nov. 4 in a game won by Iowa, 55-24. Still, he called it one of the most moving and memorable days of his five-year college football career.
 
"Just seeing the reactions and seeing the entire stadium, whether you are part of Ohio State or Iowa," Price said. "To turn and wave is huge to show the support from an athletic side of things, to the medical center, and to those kids. Football puts you on a platform to do better for people and to brighten their day. A wave is simple and easy. I am 100 percent supportive of it and would do it again if I had another trip to Iowa City."
 
The Kinnick Wave was in its infancy when Penn State running back Saquon Barkley came to town Sept. 23. Barkley was a finalist for the Doak Walker Award (nation's premier running back) and Maxwell Award (college football player of the year). He compiled 358 all-purpose yards when the Nittany Lions defeated Iowa, 21-19.
 
Many believe Barkley is one of the best things in college football. He disagrees.
 
"That wave tradition that they started is the best thing in college football right now, it's awesome," Barkley said. "It is little stuff like that that can change someone's life or have an impact on someone's day."
 
Barkley heard about the Kinnick Wave via Twitter. Since it was a night game, many fans were waving with lights from their cell phones. Barkley grabbed a teammate and they turned east.
 
"I do think the visiting team should get involved in it, too," he said. "It's an Iowa thing, but it shows respect. I know a couple players on my team stood up and waved and I was one of those guys. That is something special that they do in that stadium and that stadium itself is special."
 
Barkley didn't add any honors in Atlanta, but he had already received the Paul Hornung Award as college football's most versatile player. He would be quick to acknowledge that the real champions are those like Kelso who continue to fight every day in the University of Iowa Stead Family Children's Hospital.