24 Hawkeyes to Watch 2017-18 | Hawk Talk Monthly — Dec. 2017
IOWA CITY, Iowa — University of Iowa volleyball student-athlete Annika Olsen was selected to the 2017 CoSIDA Academic All-America® Division I Volleyball first team, the association announced Monday. Olsen is the fourth Hawkeye in program history, and the first since 1989, to earn CoSIDA Academic All-America honors.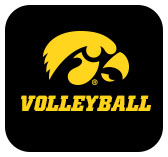 "We are so proud of Annika's hard work and leadership as an outstanding student-athlete in our program," said UI head coach Bond Shymansky. "She dedicated herself to our mantra of True Mental Toughness and embodied every aspect of it.  We are confident that Annika will be a great representative in the future as a Hawkeye forever."
 
Olsen graduates on Dec. 16 with a degree in finance. She has a 4.06 cumulative GPA, has earned the Dean's List three times, and is a three-time Academic All-Big Ten recipient.
 
Olsen led the Big Ten in total digs (531) and digs per set (4.87). The John's Creek, Georgia, native reached double digits in digs in 30 matches, including a career-high 29 digs twice, at Indiana on Oct. 11 and against Illinois on Oct. 20. Olsen had 10 matches with 20-or-more digs during the 2017 season and finished her career ranked No. 5 in digs (1,556) in program history.
2017 CoSIDA Academic All-America® Division I Volleyball Team
| | | | | |
| --- | --- | --- | --- | --- |
| FIRST TEAM | | | | |
| Name | School | Yr. | GPA | Major |
| Alexis Conaway | Iowa State | Sr. | 4.00 | Kinesiology  |
| Ashley Evans  | Purdue | Sr. | 3.88 | Mechanical Engineering |
| Lily Johnson  | Missouri State | Sr. | 3.96 | Cell and Molecular Bio. |
| Jaelyn Keene  | Illinois State | Sr. | 3.97 | Financial Accounting |
| Rachel Minarick | Michigan State | Sr. | 3.97 | Kinesiology |
| Annika Olsen | Iowa | Sr. | 4.06 | Finance |
| Kristi Piedimonte | Kennesaw State | Sr. | 4.00 | Nursing |
| | | | | |
| SECOND TEAM | | | | |
| Name | School | Yr. | GPA | Major |
| Jacie McClure | Louisiana Tech | Sr. | 4.00 | Kin. & Health Promotion |
| Allison Penner | UNCG | Jr. | 4.00 | Accounting  |
| Kristen Stucker | Austin Peay | Jr. | 4.00 | Biology |
| Katie Tomasic | Miami (Ohio) | Sr. | 4.00 | Finance |
| Kori Waelbroeck | IUPUI | Sr. | 4.00 | Community Health |
| Haleigh Washington  | Penn State | Sr. | 3.79 | Philosophy |
| Jaali Winters | Creighton | Jr. | 3.92 | Business Information & Analytics and French |
| | | | | |
| THIRD TEAM | | | | |
| Name | School | Yr. | GPA | Major |
| Brianne Dixon | Missouri State | Sr. | 4.00 | Cell and Molecular Bio. |
| Ann Hollas | Stephen F. Austin | So. | 4.00 | Biology |
| Leah Lawrence | Alabama | Gr. | 3.99/4.00 | Accounting  |
| Ally Lunsford | Bryant | Sr. | 4.00 | Applied Psychology |
| Patricia Mattingly | U.S. Naval Academy | Jr. | 3.83 | Applied Mathematics |
| Kaylee Neal | New Mexico State | Gr. | 4.00/4.00 | Accounting |
| Anna Zwiebel | LSU | So. | 4.09 | Kinesiology |
| | | | | |