Hawkeye Fan Shop — A Black & Gold Store | Kinnick Edge | Hawk Talk Monthly — Dec. 2017 | Pinstripe Bowl Web Site | Official Bowl Tour site | Pinstripe Bowl Tickets
Editor's Note: The following first appeared in the University of Iowa's Hawk Talk Daily, an e-newsletter that offers a daily look at the Iowa Hawkeyes, delivered free each morning to thousands of fans of the Hawkeyes worldwide. To receive daily news from the Iowa Hawkeyes, sign up HERE.
By JAMES ALLAN
hawkeyesports.com
IOWA CITY, Iowa — Sophomore linebacker Amani Jones is one of the hardest hitters on the University of Iowa football team. That makes the Hawkeyes' ongoing partnership with helmet manufacturer Riddell a welcomed alliance.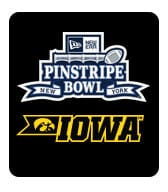 Iowa's football program took part in a pilot study with Riddell, allowing 11 Hawkeyes — Brady Ross, Drake Kulick, Ben Niemann, Miles Taylor, Bo Bower, Josey Jewell, Aaron Mends, Noah Fant, Parker Hesse, Anthony Nelson, and Brandon Snyder — to wear custom, precision-fit helmets for the 2017 season.
 
The helmets were custom-made using iPad video application that scanned every part of each player's head, both with and without a helmet. The accuracy of the scan is plus or minus 1/20,000th of an inch.
 
The helmet fits like a custom-tailored suit.
 
"It's one less thing you have to worry about," said Jones, a Chicago native. "It's a helmet that is specifically for you. It will fit my head perfectly, so I don't have to worry about it moving. This is a relief and is helpful in every way."
 
Jones and all the Iowa returnees took part in the 3D imaging last week in the equipment room of the Richard O. Jacobson Football Operations Building. Iowa will be the first program to have all its upperclassmen in the precision-fit helmets.
 
"I have been in (Riddell saleman) Dave Baron's ear a long time," said Greg Morris, who has served as Iowa football's equipment manager since 1988. "I have been on him wanting a helmet with no air to custom fit to each player's head. His promise to me was if we get to that point, we will get you as close to No. 1 as possible and that day has arrived."
 
Morris says in today's world, Iowa's commitment to student-athlete safety is useful in the recruiting process.
 
"We can assure moms and dads, aunts and uncles, grandparents, and the student-athletes that we are doing everything we can to stay healthy," said Morris. "The odd thing about this is when I started at Iowa 29 years ago, we custom-fit helmets, but we didn't have the technology we have today.
 
"We fit everyone's head and adjusted the helmets as much as we could to take the variables out of it. We have come full-circle. Now with the 3D scans, it is different than what we did 20 years ago. At the end of the day, we're as healthy as we can be."
 
Baron says the precision-fit helmets are safer than the air-component helmets because of the customization.
 
"They have little to no movement on the head," said Baron. "That increases the protection level of the helmet for each player."
 
"Concussions are at the forefront in football, and in every type of sport," said Morris. "We feel with our history — with a number of players in precision-fit helmets and no concussions, it is the way to go.  From an equipment manager and safety standpoint, once that precision-fit helmet is on someone's head, we are done worrying about whether it fits or not."
 
The University of Iowa Athletics Ticket Office is accepting online bowl orders for the 2017 New Era Pinstripe Bowl at hawkeyesports.com/tickets. The Hawkeyes will face Boston College on Dec. 27 at 4:15 p.m.
 
Official bowl travel packages are available at iowasportstours.com. For more information visit: pinstripebowl.com.