Hawkeye Fan Shop — A Black & Gold Store | Kinnick Edge | Hawk Talk Monthly — Dec. 2017 | Pinstripe Bowl Web Site | Official Bowl Tour site | Pinstripe Bowl Tickets | Pinstripe Bowl Coverage
Editor's Note: The following first appeared in the University of Iowa's Hawk Talk Daily, an e-newsletter that offers a daily look at the Iowa Hawkeyes, delivered free each morning to thousands of fans of the Hawkeyes worldwide. To receive daily news from the Iowa Hawkeyes, sign up HERE.
 
By DARREN MILLER
hawkeyesports.com
IOWA CITY, Iowa — Twelve times from Sept. 2 to Nov. 24, the University of Iowa football team sent captains to midfield for the pregame coin toss. Senior Kevin Ward made all 12 trips.
 
Ward, a 6-foot-1, 217-pound outside linebacker, is a testament to the emphasis the Hawkeyes place on special teams. A walk-on from Homer Glen, Illinois, Ward has to strain to recount the snaps he has taken at linebacker in actual games during his career. He started at Northwestern on Oct. 21 — because All-American Josey Jewell was injured — and made four tackles.
 
Other than that…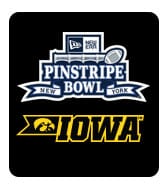 "I haven't got a whole lot of snaps, we usually send the younger guys in there when the score gets run up a little bit," Ward said.
 
Yet Ward is one of the most valuable Hawkeyes on the roster.
 
A year ago, he made a few relief appearances when Ben Niemann was nursing an injured hamstring. Niemann has been running full speed this season and that's OK with Ward. He loves dedicating himself to special teams; he is part of every unit except field goal.
 
"It is embracing your role," Ward said. "I was a scout team guy and that's how I originally helped the team. I knew if I kept giving effort and showing up that eventually I would get rewarded. Guys who last five years and give great effort end up contributing on Saturdays."
 
When Ward enrolled at Iowa in 2013, he was already familiar with Big Ten football. His father, Brian, played at Illinois from 1982-85, a brother Pat, played at Northwestern from 2009-12, and a brother Ryan lettered for the Hawkeyes from 2014-16. Even then, it took Kevin time to adjust to what he was up against in practice.
 
"This is a whole different level and you're like, Holy cow, I don't know if I can do this," Ward said. "It takes time.
 
"The first two years it's tough not playing. You're wondering if you can stick through it, but if you have a hard-nosed mentality and keep grinding, good things will happen. Keep giving the effort, coaches will reward it."
 
As a redshirt freshman in 2014, Ward's playing time amounted to one kickoff against Northwestern. The Hawkeyes won the game, 48-7.
 
"The score wasn't very close, that's why I was in there," Ward said.
 
But Ward possessed the ingredients for the playing-time recipe: a hard-nosed, never-quit mentality. As he got older, fresh waves of Hawkeyes entered the program and Ward quickly offered advice on how they could succeed: go to work every day and have pride in what you do. That is important instruction, especially for special-teamers.
 
"A lot of guys brush (special teams) off, but if you accept and embrace your role, it can become a good outlet for you," Ward said.
 
Ward trusts the message from Iowa head coach Kirk Ferentz and it continues to motivate his special teams' journey. Ferentz stresses that the way a team covers kicks is emblematic of the entire football team. This season Iowa has held opponents to 16.8 yards per kick return and 5.1 yards per punt return.
 
"We're willing to go down there and light guys up, be physical, and throw guys around," Ward said. "We have done a great job of that this year. Everyone on the team takes pride in that."
 
The Hawkeyes had a couple highlight reel plays on special teams this season. Punter Colton Rastetter connected with A.J. Epenesa for a 15-yard pass and first down at Michigan State and Rastetter completed an 18-yard pass to long-snapper Tyler Kluver for a first down against Ohio State. Ward confessed that he asked special teams coach LeVar Woods if he could sneak into the limelight.
 
"He was like, 'Ah, Ward, just keep doing what you're doing and we're OK,'" Ward said with a laugh.
 
At the Iowa football awards banquet Dec. 10, Ward was honored four times. For a second year in a row, he earned a Reggie Roby Special Teams Award. He also received the Brett Greenwood Award that is presented to a walk-on who embodies the values and behaviors of former Hawkeye walk-on Brett Greenwood, and the Hayden Fry Award that goes to team members who show exemplary leadership and dedication.
 
Ward was also named permanent team captain along with Josh Jackson, Josey Jewell, Nate Stanley, and Sean Welsh.
 
"It means a lot to be put in a leadership position, especially coming from a walk-on background," Ward said. "It's a tremendous honor. I never thought this is how it would work out for me. The first time walking to midfield is a surreal feeling. I will never forget it and it has been quite a ride."
 
Ward's ride with the Hawkeyes isn't over. Iowa (7-5) takes on Boston College (7-5) in the New Era Pinstripe Bowl on Dec. 27 in Yankee Stadium in the Bronx, New York. Kickoff is set for 4:15 p.m. (CT) and the game will be televised by ESPN.
 
It will be Ward's final college football game. It will also mark the 13th time this season he will walk to midfield for the pregame coin toss.