Hawkeye Fan Shop — A Black & Gold Store | Kinnick Edge | Hawk Talk Monthly — Dec. 2017 | Pinstripe Bowl Web Site | Official Bowl Tour site | Pinstripe Bowl Tickets | Pinstripe Bowl Coverage
By DARREN MILLER
hawkeyesports.com
 
NEW YORK CITY — After nearly a month of heavy lifting in Iowa City, the University of Iowa football team has hit the pause button and become tourists for a day and a half in New York City. The Hawkeyes face Boston College on Wednesday in the New Era Pinstripe Bowl.
 
The student-athletes toured Times Square on Sunday and on Monday they attended One World Observatory and the September 11 Memorial and Museum. Monday evening will be spent at a team dinner before watching the Radio City Christmas Spectacular.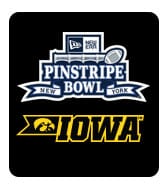 It has been an unusual and interesting bowl trip for the Hawkeyes, who will go through a light practice/walk-through on Tuesday at Fordham University. As is the case most times during the postseason, days and weeks become jumbled.
 
"To others it is Christmas, to us it's Thursday," said senior running back Akrum Wadley. He was referring to Dec. 25 falling on the same day as a Thursday (off day) during Iowa's normal game week.
 
Senior linebacker Bo Bower has had Boston College in the back of his mind since the Hawkeyes began their "prolonged business trip" on Sunday morning.
 
"You want to relax and take your mind off (the upcoming game) because you don't want to play the game too early," Bower said. "(On Tuesday) we will start kicking into gear and have a renewed focus."
 
While training in Iowa City, the Hawkeyes practiced inside, outside, on turf, and on grass. The variety of workout conditions could prove helpful Wednesday.
 
When Iowa takes on Boston College in the New Era Pinstripe Bowl in Yankee Stadium, it will be the Hawkeyes' fourth time playing on grass this season. They played their first three road games on grass: winning at Iowa State and losing by a touchdown at Michigan State and Northwestern. Temperature at kickoff for those games was 65, 64, and 66 degrees Fahrenheit.
 
"Instead of going down to warmer weather, it's pretty much the same weather as Iowa City," said senior linebacker Josey Jewell. "We're acclimated to that and we have a lot of good prep in while we were back home."
 
Temperature at kickoff for the New Era Pinstripe Bowl is expected to be in the mid 20s.
 
When the Hawkeyes needed a grass surface back home, they borrowed the practice turf used by the Iowa women's soccer team.
 
"You have to be used to the grass field and be ready for what kind of cleats you want to wear," Jewell said. "You don't want those things to be excuses, so it's good we got that knocked down."
 
When the eighth annual New Era Pinstripe Bowl kicks off Wednesday in the Bronx, it will be nearly seven years since the Hawkeyes last won a bowl game (27-24 over Missouri in the Insight Bowl on Dec. 28, 2010). No one, regardless of class, Jewell said, wants to end a season on the short end of a final score.
 
"You want to end the year right and end successfully at the end of your career, especially," he said. "It's always a big thing for the whole team to come out with a W."
 
Kickoff is set for 4:15 p.m. (CT). The game will be televised by ESPN with Kevin Negandhi, Mack Brown, Booker McFarland, and Jen Lada on the call.