Hawkeye Fan Shop — A Black & Gold Store | Kinnick Edge | Hawk Talk Monthly — Dec. 2017 | Pinstripe Bowl Web Site | Official Bowl Tour site | Pinstripe Bowl Tickets | Pinstripe Bowl Coverage | Chalk Talk Photo Gallery | VIDEO — Chalk Talk Clinic
By DARREN MILLER
hawkeyesports.com
 
BRONX, New York — As of late Tuesday morning, Jesus Ramos is a University of Iowa football fan who wants to play for the Hawkeyes.
 
The 12-year-old from the Bronx was one of approximately 50 members of the Bronx Colts Youth Foundation that participated in a Chalk Talk Clinic at Yankee Stadium on Dec. 26, led by 17 current Hawkeyes. After preliminary instructions were given for the clinic, the confident Ramos declared that he was already better than the Iowa student-athletes who would soon be coaching him. His boast was met with laughter.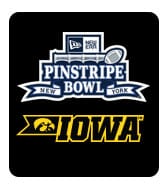 "I'm learning the routes and catching balls," Ramos said. "For this route, they tell me to go this way, so I go this way; they tell me to go that way, so I go that way. It is fun."
 
The Hawkeye players established five stations and every camper rotated through each. They worked on linebacker drills, route running and pass receiving, kicking and punting, and sprints. One station was for questions and answers.
 
Iowa freshman Levi Duwa assisted at the linebacker station. After the campers went through a few times, it was their turn to put coaches through the paces.
 
"We're having fun and the kids are making us run around a little bit, so we're getting exercise, too," Duwa said. "They're a great group of kids and it has been fun.
 
"I remember when I was little and I looked up to kids like us. Now that I'm here, it's cool to think we have little kids looking up to us. It's a good feeling."
 
Leroy Freeman, Jr. — aka Coach Free — founded Bronx Colts Football as a way to keep youngsters off the street. He has been bringing groups to the Chalk Talk Clinic at the Pinstripe Bowl since its inception in 2010. All of Tuesday's campers were from 14-and-under teams.
 
"They enjoy it, they are very excited," Freeman said. "They enjoy this day."
 
One reason they appreciate the day so much is that all the campers will also attend Wednesday's New Era Pinstripe Bowl. Now they have an up-close look at one of the participants.
 
"They thought Boston College was going to be out here and they said, 'No, we want Iowa,'" Freeman said. "I was shocked you guys are out here — some of these kids do know about Iowa — they follow through with college football. They are familiar."
 
By the end of the hour-long session, it was difficult to tell who had more fun, the Hawkeyes or the campers. Unlike the actual game Wednesday, it was a win-win.
 
This bit of community service is another example of the "Do it Right" initiative emphasized in University of Iowa athletics. It also fits into Freeman's motto with the Bronx Colts.
 
"We try to make them productive people and show positives in the world," Freeman said. "We also make sure they get their academics together because that is the key thing. That is what they need out here these days."
 
Iowa and Boston College meet in the eighth annual New Era Pinstripe Bowl on Dec. 27 in Yankee Stadium. Kickoff is set for 4:15 p.m. (ET).