Hawkeye Fan Shop — A Black & Gold Store | Kinnick Edge | Hawk Talk Monthly — Dec. 2017 | Pinstripe Bowl Web Site | Official Bowl Tour site | Pinstripe Bowl Tickets | Pinstripe Bowl Coverage | Photo Gallery | VIDEO — News Conference
By CHRIS BREWER
hawkeyesports.com
 
BRONX, New York —  The final pregame report from the New Era Pinstripe Bowl included injury updates, special teams expectations, and, of course, weather.
 
Game day temperatures are expected to be cool when Iowa meets Boston College in the eighth annual Pinstripe Bowl on Wednesday at 4:15 p.m. (CT) inside Yankee Stadium.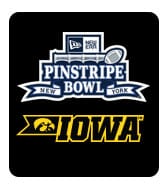 That forecast, with 20 degree temperatures at kickoff, is nothing new to head coaches Kirk Ferentz and Steve Addazio. Boston College is without an indoor practice facility, and the Hawkeyes have been preparing outdoors for two weeks.
 
"Some days have been nicer than others, but I feel like we're in the Midwest preparing for Big Ten football," said Ferentz, who is leading Iowa in a bowl game for the 15th time in 18 seasons. "I know we're not in the Midwest, I've noticed that as we've driven around, but (the weather) is pretty much the same and you just put it out of your mind. You have to worry about the game and there is plenty to worry about in that regard."
 
Boston College has been here before. The Eagles played in the 2014 New Era Pinstripe Bowl, and Addazio isn't concerned about the elements.
 
"We practice year around outside," said Addazio, the first coach in school history to lead the Eagles to four bowl appearances in his first five years. "We've been working outside and it sounds like for both of our programs, (the weather) goes hand in hand with who we are. I don't think anyone is really concerned about it. In fact, we're probably embracing it."
 
INJURY UPDATE
Ferentz announced last week that Iowa will be without safety Miles Taylor. Addazio announced today that Boston College will be without starting defensive end Harold Landry, an All-ACC third-team selection who ties for the team lead with five sacks."
 
"Landry couldn't quite get that ankle right to be at full speed," said Addazio. "That just kind of flows through the year for us. Next man up, let's roll."
 
Boston College's loss up front could be Iowa's gain. The Hawkeyes lost two senior starting offensive linemen throughout the course of the regular season, and are playing in the postseason with its starting left tackle. Tristan Wirfs, who has started the last seven games at right tackle, will flip to the other side of the ball and become the first true freshman to start at left tackle in the Ferentz era. Levi Paulsen will step in and make his first career start at right tackle.
 
"Their team is going through injury issues, so have we, and I think everybody in the country has," said Ferentz. "You don't dwell on that. You try to get guys ready for the next challenge. If there is an upside, and I think there is, is we've had a whole month to get guys comfortable in their spots. Hopefully they'll go out there and compete and do a good job like the guys in front of them have done. The silver lining is it provides an opportunity for a young guy to step up a little bit, and experience is always beneficial as we've move forward."
 
SPECIAL TEAMS IMPLICATIONS
Three of the previous seven Pinstripe Bowls have been decided by three points or less. That includes Boston College's 31-30 overtime loss to Penn State in 2014.
 
"Special teams are huge in our program. It's part of our plan to win," said Addazio. "We don't have many bullets on there but that is one of them. Creating field position in a huge deal when you want to run the football and play good defense. Everybody equates special teams with the kick. We played in the game a couple years back and the kick cost us dearly, so I don't minimize that. But there is so much more to it. Special teams very likely could have a huge impact on this game."
 
Special teams has often determined Iowa's fortune, and on Wednesday the Hawkeyes will pay special attention to Boston College returner Michael Walker. The junior leads the nation in combined return yards (1,110) and ranks fourth averaging 13.7 yards per punt return.
"Special teams is especially pertinent in the bowl game," said Ferentz. "If you look there are a lot of close games and exciting games, so it's going to be a factor. There are a lot of things on our checklist, but the first thing that comes to my mind is BC's return guy. He's outstanding and it's going to be a big challenge for us to try and contain him."
 
APPROACHING HISTORY
Ferentz is one win from tying Hayden Fry as the Hawkeyes' all-time winningest football coach. Ferentz has won 142 games since his first season in 1999. Fry won 143 games from 1979-98. At Tuesday's news conference, Addazio was asked about Ferentz's perception in the coaching community.
 
"I have known Coach Ferentz for a long time, and I sincerely have always admired coach and his career, what he's done, what's he's accomplished. I've watched the Iowa program and what's gotten done with longevity. He is regarded as one of the finest coaches in the country and a man with great integrity. And there's no one that will not tell you that, which I think is really unbelievable," Addazio said.
 
ON THE AIR
The 2017 New Era Pinstripe Bowl kicks off at 4:15 p.m. (CT). The game is televised on ESPN, streamed online at WatchESPN.com and on the ESPN app, and broadcast on the Hawkeye Radio Network.