Hawkeye Fan Shop — A Black & Gold Store | Kinnick Edge | Hawk Talk Monthly — Dec. 2017 | Pinstripe Bowl Web Site | Official Bowl Tour site | Pinstripe Bowl Tickets | Pinstripe Bowl Coverage
Editor's Note: The following first appeared in the University of Iowa's Hawk Talk Daily, an e-newsletter that offers a daily look at the Iowa Hawkeyes, delivered free each morning to thousands of fans of the Hawkeyes worldwide. To receive daily news from the Iowa Hawkeyes, sign up HERE.
 
By DARREN MILLER
hawkeyesports.com
NEW YORK CITY — Jim Reid has been at the University of Iowa and Boston College and he said Wednesday's New Era Pinstripe Bowl will be a special game played by special players on both sides.
 
"People should come to this game, even if they don't know much about Iowa or Boston College," Reid said Friday during a teleconference. "They will go to a game where the players are students, then they are athletes, then they are great men. That is enough to buy a ticket. I can't speak any more highly of our guys at BC and certainly the Iowa Hawkeyes as well. Two great programs in my mind and I have done this for a long time."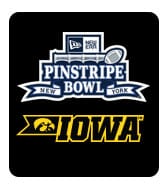 Reid arrived at the University of Iowa in 2012 after serving three years as assistant head coach and defensive coordinator at Virginia. In his first year at Iowa, Reid coached three senior linebackers who each recorded more than 100 tackles and earned all-Big Ten recognition: Christian Kirksey, selected in the third round of the 2014 NFL Draft by Cleveland, Anthony Hitchens, selected in the fourth round by Dallas, and James Morris, who signed with New England as a free agent.
 
Reid and LeVar Woods were named National Linebacker Coaches of the Year by FootballScoop as Iowa's defense ranked among the national leaders in total defense (sixth), first downs allowed (seventh) pass defense (ninth), scoring defense (ninth), pass efficiency defense (17th) and rushing defense (19th).
He then began to groom a young, talented group that included current starters Bo Bower, Josey Jewell, and Ben Niemann.
"Back in 2015, Bo and Cole Fisher were in a real battle and Cole ended up playing a lot and so did Bo," Reid said. "All of them have progressed well under Phil (Parker) and Seth Wallace. They attack the line of scrimmage like they should — hard, downhill, use their hands, find the football. When it's pass, you can tell they know their drops. After plays are made, you can see the leadership linebackers have to have — they display great emotion and motivation and they are the heart and soul of that good defense that Phil has put together."
 
Reid is looking forward to connecting with Iowa players and coaches at some point during the New Era Pinstripe Bowl. He even reached out to Woods (now tight ends coach for the Hawkeyes) and Parker via text message after bowl pairings were announced Dec. 3.
 
"I sent a text message to Phil and said, Can you believe this? Then I sent one to LeVar and said, Can you believe this?" Reid said. "Of course LeVar texted right back. I'm still waiting to hear from Phil."
 
Reid left Iowa in January, 2016, to become defensive coordinator at Boston College. The Hawkeyes were 8-5 last season and, like the Eagles, are 7-5 heading into this postseason. Boston College was 7-6 in 2016, defeating Maryland in the Quick Lane Bowl.
 
The Eagles have won five of their last six games and allow 398.1 yards per game (199.7 passing, 198.4 rushing). Boston College is tied for 16th in the nation with 25 forced turnovers — 18 interceptions and seven fumble recoveries. Junior defensive back Lukas Denis has 80 tackles, nine pass breakups, and seven interceptions.
 
Reid was originally allotted 15 minutes for his segment of Friday's teleconference, but he exceeded that by nearly 10 minutes, reflecting on his stay at Iowa ("Three of the best years of the 47 I have been in college football. I have the utmost respect for everybody there: coach (Kirk) Ferentz, the entire staff, all the players and coaches. It was terrific."), defending Iowa's zone blocking scheme ("You just try to slow it down if you can. It's very difficult because everybody says inside zone, outside zone, but there are unique tweaks to every play they run."), and matching wits with Iowa offensive coordinator Brian Ferentz ("He is a great football coach, a hard worker, communicator, and teacher of the game.").
 
The eighth annual New Era Pinstripe Bowl will be Wednesday in Yankee Stadium in the Bronx, New York, beginning at 4:15 p.m. (CT). It will be televised by ESPN.