Hawkeye Fan Shop — A Black & Gold Store | 24 Hawkeyes to Watch 2017-18
Editor's Note: The following first appeared in the University of Iowa's Hawk Talk Daily, an e-newsletter that offers a daily look at the Iowa Hawkeyes, delivered free each morning to thousands of fans of the Hawkeyes worldwide. To receive daily news from the Iowa Hawkeyes, sign up HERE.
By JAMES ALLAN
hawkeyesports.com
IOWA CITY, Iowa — More is expected from Clair Kaji as she enters her sophomore season with the University of Iowa women's gymnastics team.
 
Kaji provides the Hawkeyes with a unique perspective after qualifying for the NCAA Championships as a true freshman in 2017. She defied the odds at the NCAA Champaign Regional where she posted a season-best score of 9.9500 to tie for first place on beam with senior teammate Angel Metcalf.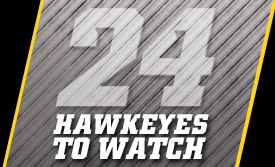 The performance secured Kaji's spot at the national championships.
 
"It's unheard of, especially in the event she qualified on," said Iowa head coach Larissa Libby. "As a freshman, to anchor a lineup or stay up is impressive on its own. To win that in our last event with the score she had, which was almost perfection, is impressive.
 
"There aren't a lot of people that just qualify on beam. It's one of the hardest events and she's stunning in that event. It says a lot about what she's capable of doing."
 
Kaji's performance at the NCAA Champaign Regional came as a surprise. She was calm, cool, and collected on April 1, 2017, in St. Louis.
 
"It was one of the routines where I did not get nervous at all," said Kaji, an all-arounder from Vancouver, Canada. "It was surprising because I am one of those gymnasts that tends to tense up. I felt relaxed. When I looked up at the score and saw a 9.950, I ran back to my team and they said I was going to nationals. I started crying and Angel and I started jumping around.  It was great."
 
Kaji posted a score of 9.8625 at the NCAA Championships to place 17th in her debut on the big stage.  It's an experience that Libby says you can't measure heading into 2018.
 
"There aren't many (gymnasts) that get that opportunity," said Libby. "She was placed with Utah, a team that has thousands of followers. The experience as a whole was great for her to see what a top-notch program does and how they behave.
 
"(The experience helped her) realize that she fits in and it's not any different than what she has done."
 
Kaji enjoyed a strong freshman season as a Hawkeye, earning second-team All-Big Ten honors and she was twice named the Big Ten Freshman of the Week. But's it's the experience at the NCAAs that gives Kaji that unique perspective. She is the only Hawkeye gymnast that has competed at the NCAA Championships.
 
"Coming back with that knowledge and bringing it to the team that we deserve to be there and we're not any different from anyone at the championships last year (is big)," said Libby. "What it can do in terms of leading the team is the most important thing."
 
Kaji knows because of that experience there are greater expectations.
"I have that perspective that no one on the team has," said Kaji. "I can use that to motivate (my teammates), push them, and pull them along to the NCAAs as a team.
 
"I had the courage to go out and risk it all (last year). It worked in my favor and that helped build my confidence, but I still have a lot to work on with my confidence. It made me trust myself and I know that I can do it."
 
Libby has seen a more vocal gymnast in the months since. Now she wants to see Kaji acknowledge how good she can be.
"She's a humble individual," said Libby. "Even when she does well, she doesn't believe it's her that did that well. If she had a little fire and swag, she wouldn't be qualifying on one event, it would be four events. Her gymnastics would go to a different level if you would put that moxie behind it. 
 
"There is a lot more in there that she has to give and we'll see that as she continues to mature."
 
The team dynamic is one Kaji's driving forces to keep moving forward.  When she was competing as a kid in Canada, the sport was individualized, and there wasn't a lot of cheering. The tone was intense and serious.
 
Kaji says the atmosphere at Iowa is refreshing.
 
"To have the team's support in everything (as a freshman) was one of the best experiences of my life," said Kaji. "It opened my life to have a competition that is fun and inviting. If you make your teammates better, you're making yourself better. When you make the team rise, you all rise together."
 
That's the goal for Kaji in 2018.  She wants to make a return trip to the NCAA Championships, but she wants the team to be competing alongside her.
 
"This year I want the team to go to nationals and we are expecting to go to nationals," said Kaji. "I want to have the courage to go there, go big, risk it all, and push my teammates to be better. "
 
The Hawkeyes open the 2018 season Jan. 6, facing No. 14 Auburn, Iowa State, and Arizona State in Tempe, Arizona, beginning at 5 p.m. (CT).