Hawkeye Fan Shop — A Black & Gold Store | 24 Hawkeyes to Watch 2017-18 | Hawk Talk Monthly — January 2018 | Final Results (PDF)
TEMPE, Ariz. – The No. 20 University of Iowa women's gymnastics team posted a 193.000 to finish fourth in its 2018 season opener against No. 14 Auburn, Arizona State, and Iowa State on Saturday evening at the Wells Fargo Arena.
 
Iowa State won with a score of 195.125. Arizona State followed in second with a total of 194.675, while Auburn finished in third with a 193.950.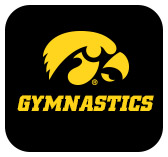 MEET HIGHLIGHTS
Ten Hawkeyes saw action, with three seniors, two juniors, four sophomores, and one freshman competing. Sophomore Clair Kaji took home the event title on floor. Overall, the team had six top-five finishes.
HEAR FROM COACH LIBBY
"The first meet of the year is always tough. We did some great things and some that weren't so great tonight. This is why the season begins so early — to get the kinks out. Certainly, we would have liked to have had a stronger start to the season. We will return home, continue to train, get stronger, and come back next weekend. It's not about where you start, it's where you finish."
ALL-AROUND
Sophomore Charlotte Sullivan finished second in the all-around with a 39.075.
 
FLOOR
Iowa recorded the highest event score of the night on floor with a 48.925. Kaji took home the event title with a 9.850, while senior Lanie Snyder finished second with a 9.825.
 
VAULT
The GymHawks registered a 48.725 on vault. Senior Nikki Youd led Iowa in the event with a 9.825, finishing fourth overall. Senior Melissa Zurawski and Sullivan followed with a 9.775 and 9.750, respectively.
 
BEAM
Iowa posted a score of 48.300 on beam. Sophomore Breanna Fitzke made her debut and finished third overall with a 9.825. Kaji and Sullivan followed, each posting a 9.800.
 
UNEVEN BARS
The Hawkeyes finished the competition on bars with a 47.050. Kaji led Iowa with a 9.800 to tie for third.
 
UP NEXT
Iowa begins Big Ten competition at Michigan State on Jan. 13 at 6 p.m. (CT).