Hawkeye Fan Shop — A Black & Gold Store | 24 Hawkeyes to Watch 2017-18 | Hawk Talk Monthly — January 2018
Editor's Note: The following first appeared in the University of Iowa's Hawk Talk Daily, an e-newsletter that offers a daily look at the Iowa Hawkeyes, delivered free each morning to thousands of fans of the Hawkeyes worldwide. To receive daily news from the Iowa Hawkeyes, sign up HERE.
By BRANDEE BRITT
hawkeyesports.com
IOWA CITY, Iowa — All eyes are on Chicago for the University of Iowa men's gymnastics team.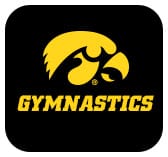 The Hawkeyes kick off the 2018 season at the Windy City Invitational in Chicago on Saturday, and in four short months, they will end the season at the NCAA Championships in the very city it began.
 
"We are excited to be in Chicago for the NCAA Championships," said Iowa head coach JD Reive. "It is close to Iowa City and we have a lot of fans and following in the Chicago area. Starting and ending the season there is a fantastic opportunity for us."
 
Last season, the Hawkeyes made their 18th straight NCAA appearance.  This year, the eighth-ranked Hawkeyes have their sights set on a top-three finish in the Big Ten and a trip to the finals at the NCAA Championships. In order to get there, the team will rely on a mix of talented newcomers, experienced veterans, and outstanding senior leadership.
 
"One of the biggest pieces this year is that, as a whole, the team is motivated and moving in the proper direction together," said Reive. "That's something I get excited about. If they do what I expect them to do this weekend, I think that will continue to progress from the beginning in Chicago all the way to the end."
 
While the roster certainly looks young on paper (one redshirt senior, three seniors, three juniors, five sophomores and four freshmen), many of Iowa's underclassmen have already adapted to filling big roles.
 
"The underclassmen are important to our team," Reive said. "We have some freshmen that will do some serious contributing and our sophomore class is going to take a strong role in our counting team score. Some of them are already doing it which helps balance what is a great, but small, upperclassmen group. We've some good continuity and eventually depth across all of our events."
 
For the Hawkeyes, the key to maintaining that continuity lies in the details.
 
"We have to be able to focus on details," Reive said. "The whole theme this year is consistency. For us, that means staying consistent in practice, in our mental approach, and in competition. If they can focus on the details, the rest will play itself out and we will peak at the right time."
 
The Windy City Invitational begins Saturday at 7:30 p.m. (CT) in Chicago. The Hawkeyes will compete against a talented field, including No. 4 Minnesota, No. 5 Illinois, and No. 17 UIC.
 
A link to live stats is available on the Iowa men's gymnastics schedule page on hawkeyesports.com. Fans can also follow along with live updates on Twitter (@mensgymiowa) and Facebook (iowamensgymnastics).