Hawkeye Fan Shop — A Black & Gold Store | 24 Hawkeyes to Watch 2017-18 | Hawk Talk Monthly — January 2018 | WBB Tickets
Editor's Note: The following first appeared in the University of Iowa's Hawk Talk Daily, an e-newsletter that offers a daily look at the Iowa Hawkeyes, delivered free each morning to thousands of fans of the Hawkeyes worldwide. To receive daily news from the Iowa Hawkeyes, sign up HERE.
By DARREN MILLER
hawkeyesports.com
IOWA CITY, Iowa — It's easy to notice the points and rebounds compiled by University of Iowa center Megan Gustafson, and there have been many. But did you wonder who assists with her meticulously-styled game day hair braid?
 
The answer is junior Hannah Stewart, the same person who gives Gustafson a breather during the course of games.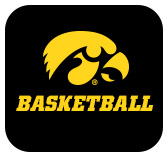 "I take a lot of pride in that braid," Stewart said. "If we don't do it at the right time in the right place, everything is thrown off — we're a little superstitious about that."
 
Stewart, who is much more than the team beautician, also takes a lot of pride in basketball. She is a key component to the No. 17 Hawkeyes winning 15 of 17 games this season. Stewart, a 6-foot-2 forward-center, is from Minot, North Dakota, where she was named Miss Basketball and Gatorade Girls' Basketball Player of the Year in 2015.
 
At Iowa, Stewart flourishes in her role as a reserve behind Gustafson, who is second in the nation in field goal percentage (68.8) and seventh in both points (22.7) and rebounds (12.6) per game.
 
"Hannah could be a starter on most teams around the Big Ten and around the country," Iowa head coach Lisa Bluder said. "She is a captain as a junior, voted on by her teammates. It shows the type of leadership she has and the type of influence she has on our team."
 
In 17 games this season, Stewart averages 17.6 minutes, 7.3 points, and 5.2 rebounds. She leads the Hawkeyes with 22 steals and is second on the team (behind Gustafson) in field goal percentage (52.3 percent), rebounding, and blocked shots.
 
And Stewart does it her way.
 
"Coach harps on us to play to our strengths," Stewart said. "I'm not going to try to be Megan Gustafson. I can't do that and I don't think anyone in the country can do that. (Senior forward) Chase (Coley) and I bring different things, maybe we have more finesse and (Megan) has more power down low. I focus on being me and playing to my strengths and not being Megan."
 
Gustafson logs a team-high 31 minutes per game, making the contributions from Stewart critical when Iowa's All-America candidate requires a rest.
 
"I don't need to go in and score a bunch of points, that's not my role," Stewart said. "If (field goals) are there, I will take them, but when I go in, I work hard to rebound, dive for loose balls, and get my teammates open."
 
Patience has been key to Stewart's growth. As a freshman in 2015-16, she played in just 12 games and averaged 2.3 minutes per game. Last season her role increased and Stewart averaged 9.8 minutes per game in 34 games. She shot 55.1 percent from the field.
 
"A lot of people want to complain and they want people to listen to them complain and that's not what (Stewart) was doing," Bluder said. "She was giving her full effort and staying positive."
 
Meanwhile, Hawkeye coaches assured Stewart that her role would increase in the future. They even tweaked the offense to create more opportunities for her.
 
"The coaches always instilled in me that there is a spot for me at Iowa and they would utilize me in coming years," Stewart said. "It's hard not playing many minutes your freshman and sophomore years, but the coaches were good about letting me know they wanted me here, there was a spot for me here, and the time was going to come. I'm having a blast and everything has worked out."
 
Three times this season Stewart has scored in double figures, netting a career-high 17 against Samford on Dec. 3. Three days later she pulled down a career-high 12 rebounds at Iowa State.
 
Iowa has a roster of 11 student-athletes and as Stewart says, they are all "very different people." Different maybe, with two common denominators: they love basketball and they love to win. On a recent off day, most of the team was at Carver-Hawkeye Arena anyway, putting up shots and working on conditioning.
 
"I'm not playing 40 minutes a game, I have no excuse to not be in shape, so I need to come in and get extra work in," Stewart said. "A lot of us did."
 
Then it was off to freshman Alexis Sevillian's house for tacos, followed by the movie, The Greatest Showman.
 
"You can tell we love each other and we're having fun with each other, even on off days," Stewart said.
 
Iowa returns to the court this afternoon, hosting Purdue (11-7, 2-2) with a 3 p.m. (CT) tip. The Boilermakers hold opponents to 59.3 points per game and 39.7 percent shooting from the field. Fifteen of their 18 opponents have scored less than 70 points in the game. On Wednesday, Purdue upset No. 21 Rutgers, 47-33, in West Lafayette, Indiana.
 
"They pride themselves on defense and we're going to try to not let that force us into turnovers," Stewart said.
 
Bluder hopes to have a crowd Saturday similar to the nearly 7,000 who watched the Hawkeyes defeat nationally ranked Michigan on Dec. 31.
 
"When you're down in numbers you need all the energy you can muster," Bluder said. "If you can get that from your fans on your home court, that is important."
 
Meanwhile, Gustafson and Stewart won't underestimate the importance of finding the right place and right time to attain the perfect hair braid.