Hawkeye Fan Shop — A Black & Gold Store | Hawk Talk Monthly — January 2018 | Kinnick Edge | Pinstripe Bowl Coverage | Photo Gallery
By DARREN MILLER
hawkeyesports.com
NEW HAVEN, Conn. — The NFC and AFC division playoffs were contested over the weekend and Josh Jackson and Josey Jewell peeked at the action when possible.
 
But the two University of Iowa All-Americans don't watch NFL games like they did as kids rooting for the hometown Cowboys in Jackson's case or the Broncos and Rams for Jewell.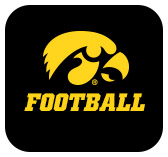 "I look at it and try to notice formations and receivers and the route combinations," said Jackson, a 6-foot-1, 192-pound cornerback from Corinth, Texas.
 
"It's kind of weird, but you have to look at it a different way and watch it like you're looking at film every day after a game or practice," said Jewell, a 6-foot-2, 236-pound linebacker from Decorah, Iowa. "You have to be able to critique stuff and be able to perfect your craft."
 
Jackson and Jewell were in New Haven, Connecticut, on Saturday, receiving All-America plaques at the 51st Annual Walter Camp Football Foundation Award's Dinner on the campus of Yale University. Next year at this time, one or both of them could be playing in professional playoff games.
 
"I'm ready to get to work for whoever chooses me," said Jackson, looking ahead to the NFL Draft that begins April 26 in Arlington, Texas.
 
"It will be interesting," Jewell said. "I hope to play there (in the NFL)."
 
Life recently became more hectic for both Hawkeye defensive team captains. After Iowa defeated Boston College, 27-20, in the New Era Pinstripe Bowl on Dec. 27, Jackson announced his intention to forego his senior year of eligibility. He flew home to the Dallas area, signed with Tommy Sims of VaynerSports, and has been training in Frisco, Texas.
 
Jewell returned to his hometown of Decorah for a few days, traveled with friends to Florida for a few more, then flew to San Diego and signed with Jack Bechta of JB Sports Inc, where his body was put through a thorough examination.
 
Everything Jackson and Jewell do from here will prepare them toward an optimal showing at the NFL Combine from Feb. 27-March 5 in Indianapolis. Jackson will continue to train in Frisco, Jewell will rejoin Iowa strength and conditioning coach Chris Doyle and prepare in Iowa City. Both will participate in Iowa's Pro Day in March.
 
Jackson has a semester remaining before he receives a degree. He will put academics on hold while he chases his professional football dream; he vows to return.
 
"Right now I want to focus on getting ready for the combine, working out, working hard, and putting myself in the best position to be successful in that area," Jackson said. "I will definitively come back and finish my degree."
 
Jewell already has a degree in enterprise leadership. His patent-pending invention, Herd Master, a geo-tracking ear tag for cattle, was one of the main storylines at the Walter Camp banquet. Emcee Joe Tessitore had just finished talking to Jackson about Iowa's 55-24 victory over Ohio State and the Kinnick Wave when he turned his attention to Jewell.
 
Tessitore: And his teammate, who many think is arguably the best linebacker in the country, All-America linebacker from Iowa, Josey Jewell.
 
Josey…we talked to your coaches and often we will hear this descriptive when they describe you: Oh, he is farm-boy strong. He has that farm-boy strong, but you're beyond farm-boy strong, you're farm-boy inventions as well. Tell people what you have come up with when you're not leading the Big Ten in tackles.
 
Jewell: Through school, there is an entrepreneurial program and what I found out and what I invented was a virtual cattle fencing product; it's like underground dog collar fences, but it goes on cattle's ear tag and it's all GPS-based. It has treated me well and it has been cool to go through that.
 
Tessitore: So this guy is going to make millions in the NFL and then he is going to make 10 times that on his patents for the next 60 years.
 
Jackson and Jewell were defensive leaders on a Hawkeye team that finished 8-5. Jackson returned eight interceptions for 168 yards and two touchdowns. He made 48 tackles, had 18 pass break-ups, a forced fumble, and a blocked kick. In 12 games, Jewell compiled a team-high 134 tackles, with 13 ½ tackles for loss, 11 pass break-ups, 4 ½ sacks, and two interceptions.
 
Iowa was the only program at Saturday's banquet with two student-athletes in attendance.
 
"Josh and I sat next to each other, so that was cool to be able to experience that with him," Jewell said.
 
"It was nice to be around all these great athletes and hear wise words from older people," Jackson said. "It was a well-organized ceremony."
 
For some reason, the Hawkeyes did not room together at the Omni New Haven Hotel at Yale. The Walter Camp Football Foundation paired Jackson with Duke linebacker Joe Giles-Harris. Jewell's roommate was (gulp) Penn State running back Saquon Barkley.
 
By all accounts, the Big Ten's Nagurski-Wooden Defensive Player of the Year and the Graham-George Offensive Player of the Year were cordial to each other.