Hawkeye Fan Shop — A Black & Gold Store | Hawk Talk Monthly — January 2018 | Kinnick Edge
IOWA CITY, Iowa – – With an attractive home schedule that includes five opponents who participated in 2017 postseason games, the University of Iowa athletics department announced Jan. 18 that the online season ticket renewal process begins Thursday, Jan. 18 for 2018 home football games.
 
Season ticket renewal forms are available online HERE.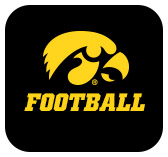 Construction of the Kinnick Stadium north end zone has started and season ticket holders whose seats are displaced because of construction will have first choice, based on priority points, to choose replacement seats for the 2018 season. Patrons will be notified of their seat selection time and provided instructions at the beginning of February, with the seat selection process to begin in April.
 
North end zone club seat selection begins in February. Nearly 1,300 of the available 1,500 club seats have been sold. More information about the Kinnick Edge project, including premium seating options, can be found HERE.
 
General public season tickets for the seven-game home slate are $415, with Faculty/Staff season tickets set at $345. UI student season tickets are $150 for all seven home games and $125 for six dates (Nebraska game not included). The renewal deadline for public and faculty/staff season tickets is March 30.  
 
The general public price is an $80 savings over the cost of single-game tickets. Season ticket holders earn ticketing priority over the general public for single-game, special events, and postseason contests.
 
Fans who are not season ticket holders and are interested in purchasing season tickets can order online HERE. Additional ticket options, including single-game ticket sales and group packages, will be available later.
 
Iowa football has posted back-to-back eight-win seasons and has posted a 28-12 record over the past three campaigns. Head coach Kirk Ferentz begins his 20th season in 2018. With Iowa's first victory of 2018, Ferentz will become the winningest head coach in program history.   Ferentz and Hayden Fry have each led Hawkeye football to 143 victories.
 
The Hawkeyes open the 2018 season with consecutive September home games against Northern Illinois, Iowa State (the Iowa Corn Cy-Hawk Series game), Northern Iowa, and defending Big Ten West champion Wisconsin. Iowa closed the 2017 campaign with wins at Nebraska (56-14) on the road and over Boston College (27-20) in the New Era Pinstripe Bowl.
 
Additional home games include Homecoming versus Maryland, Family Weekend versus Northwestern, and the Hy-Vee Heroes game against Nebraska on the day after Thanksgiving. Wisconsin (13) and Northwestern (10) won at least 10 games last season, while Northern Illinois, Iowa State, and Northern Iowa won eight games and participated in postseason play.
 
All renewal and new season ticket holders will be provided an opportunity to upgrade and/or select their seat locations based on availability, and will receive selection dates and times in April. This process begins in April, and is based on priority point totals and I-Club annual gift membership levels, and will conclude in early May.
 
I-Club contributions — which fulfill regular and postseason seating and parking requirements, can be made HERE. I-Club gifts made by March 31 will be included in priority points for the 2018 season ticket selection/upgrade process. I-Club contributions — which provide Hawkeye student-athletes tools they need to succeed at the highest level — must be made by May 31 to ensure proper mailing of season tickets and parking passes. I-Club renewal forms will be emailed in mid-February. The portion of annual I-Club contributions that fulfill zone seating requirements will no longer be tax deductible, per the recently passed tax legislation. If you have questions about tax deductibility regarding your contributions, please consult your tax advisor.
 
"We are appreciative for the continued support of our season ticket holders and we will continue to work to provide a wonderful fan experience and a great game day environment," said Gary Barta, the Henry B. and Patricia B. Tippie Director of Athletics Chair. "The north end zone project, while not completed, will enhance the game day experience and create an even better atmosphere inside Kinnick Stadium."
 
Key dates for all Hawkeye football season ticket holders are listed below:
 
| | |
| --- | --- |
| Jan. 18 | Online renewals begin |
| Feb. 1 | Seat selection times and instructions are emailed to North End Zone displaced season ticket holders |
| March 30 | Renewal deadline for all season ticket holders |
| April 10 | Selection process begins for displaced North End Zone season ticket holders |
| April 24 | Main stand season ticket holder seat upgrade process begins |
| May 30 | Deadline for required per-seat gifts are due |
| June 1 | Individual game tickets on sale for Kinnick Society and Kinnick Gold I-Club members |
| June 6 | Individual game tickets on sale for Golden and Champion Hawk I-Club members |
| June 8 | Individual game ticket on sale for season ticket holders and I-Club members |
Following is Iowa's 2018 football schedule. Start times and television information are not yet available.
 
| | |
| --- | --- |
| Sept. 1 | Northern Illinois |
| Sept. 8 | Iowa State (Iowa Corn Cy-Hawk Series) |
| Sept. 15 | Northern Iowa |
| Sept. 22 | Wisconsin |
| Oct. 6 | at Minnesota |
| Oct. 13 | at Indiana |
| Oct. 20 | Maryland |
| Oct. 27 | at Penn State |
| Nov. 3 | at Purdue |
| Nov. 10 | Northwestern |
| Nov. 17 | at Illinois |
| Nov. 23 | Nebraska (Hy-Vee Heroes Game) |
| Dec. 1 | Big Ten Championship Game |